Wimbledon's hottie this year is 'Deliciano' Lopez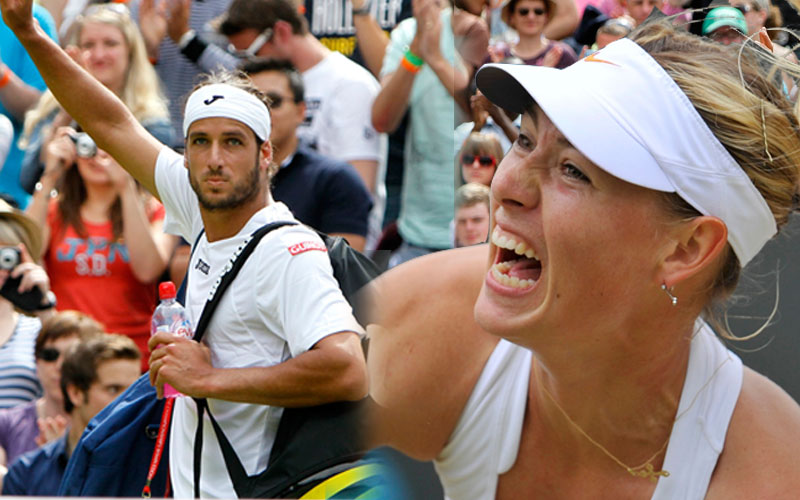 Feliciano Lopez is getting used to a new nickname, thanks to Andy Murray's mother.
Judy Murray has made no secret of her admiration of the Spaniard and tweets regularly about the man she calls "Deliciano," often with Lopez's mixed doubles partner Andrea Petkovic.
After the long-haired Lopez's win over Andy Roddick on Friday, Judy tweeted: "Oooooooooh Deliciano........looking good out there. As always."
Lopez, also known to his fans as F-Lo, caught on to his new moniker a few days ago.
"She's so funny," Lopez said of Murray's mom. "It's just something that everybody knows now because somebody post it on Twitter.
"I have to like it. It's kind of funny. I mean, it's OK."
Murray, however, didn't seem to enthused when asked about it after he beat Ivan Ljubicic 6-4, 4-6, 6-1, 7-6 (4) on Centre Court.
"I think it's about time she stopped with that nonsense," Murray said. "Makes me want to throw up. It's disgusting. Yeah, it's disgusting."
Despite his popularity in the Murray household, Lopez is in no doubt about who has more female fans between him and Rafael Nadal: "Him, definitely."
Judy Murray might have a problem on men's quarterfinal day when Lopez could be up against her son.
"Yeah," Murray said, "I hope she'll still be supporting me."
TOMIC TONIC
The youngest player in the men's singles tournament is about to become Australia's new No. 1.
Eighteen-year-old Bernard Tomic came from two sets down for the first time in his career to beat Igor Andreev 4-6, 5-7, 6-3, 6-4, 6-1 Friday and reach the third round at Wimbledon.
Tomic's ranking is set to rise to around the 130 mark, overtaking two-time Grand Slam champion Lleyton Hewitt.
"It's a good feeling," the teenager said.
Tomic's win was a welcome tonic for Australia's tennis fans, too. Without it, Australia would have been without a man in the third round of Wimbledon for the first time in the Open era.
Qualifier Marinko Matosevic lost in the first round, while Hewitt went out in the second round after a five-set match with fifth-seeded Robin Soderling, who Tomic faces on Saturday.
"He can hit you off the court, as he's done the last few years," Tomic said. "He's beaten a lot guys very easily. He can just hit winners and push me off the court. So, yeah, I've got to serve well tomorrow. And if I serve well, I think my baseline game will improve."
Tomic, who was born in Stuttgart, Germany, and moved to Australia with his family when he was 3, also reached the third round at the Australian Open in January, beating Jeremy Chardy and Feliciano Lopez before losing to Rafael Nadal.
He is still coached by his father John, but says he has been taking advice from two-time US Open champion Patrick Rafter, Australia's Davis Cup captain and a two-time Wimbledon finalist.
"It's good to get advice from Pat like that. He was a great player," Tomic said. "He obviously did really well here and he's won Slams. Any advice from a player like that is good."
GRUNTOMETER
It was Monica Seles back in 1992 who inspired English tabloid newspapers to invent the "gruntometer," but the nine-time Grand Slam champion was as quiet as a mouse compared to some of today's players.
Seles's grunt, which prompted complaints from some of her fellow players, was measured at 93.2 decibels. Maria Sharapova apparently hit 116.9 in her second-round match against Laura Robson on Friday — a new record for the Russian.
As Robson took a surprise 4-1 lead on Court 1, Sharapova's shrieks became noticeably louder.
Robson was asked about it afterward, a journalist pointing out that there was a gruntometer on court.
"Is that a thing?" the 17-year-old Briton asked.
Robson then went on to say the grunts didn't bother her at all despite her 7-6 (4), 6-3 loss.
"Absolutely not," she said. "You hear it sort of for the first game or two, but then after, you're just really focused on the point. I didn't even notice, to be honest."
Sharapova said she was sure it wasn't the first time her grunting had been discussed, and said she wasn't about to join in the conversation.
"I think," she said, "that's your job, not mine, to judge."
Follow Emirates 24|7 on Google News.