White magic at Olympics as winds blow Shiffrin off-course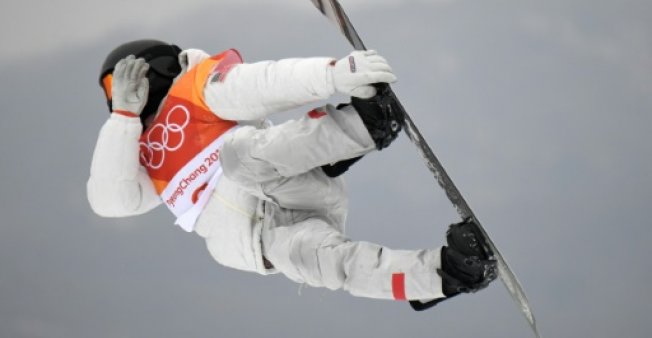 Snowboarding great Shaun White sealed his Olympic legend with a breathtaking run under pressure on Wednesday, as strong winds played havoc with the ski schedule and Mikaela Shiffrin's bid for multiple medals.
White, starting last in the halfpipe, watched bronze medallist Scotty James wipe out before nailing a spectacular last run of the day to snatch victory from Japan's Ayumu Hirano, celebrating wildly afterwards.
It was sweet redemption for the 31-year-old veteran, known as the "Flying Tomato" because of his red hair, who won gold in 2006 and 2010 and helped put the hipster sport on the map, but flopped in Sochi four years ago.
"Oh man, that was awful and amazing at the same time. I knew I did a great ride and I was proud of that and I could walk away with my head high, but when they announced my score and I'd won, it crippled me," he said.
"I was so overwhelmed with happiness, I've been through so much to get here."
It was a landmark win, as it brought USA their 100th Winter Olympics gold stretching back to speed skater Charles Jewtraw in 1924. White, Chloe Kim, Jamie Anderson and Red Gerard have locked up all four snowboarding titles for America so far in Pyeongchang.
While White celebrated at Phoenix Park, it was a very different story at Yongpyong Alpine Centre where high winds forced the women's slalom to be postponed until Friday.
Not one of the skiing events has gone ahead on schedule so far, with winds of up to 25 metres (82 feet) per second making it difficult even to stand in some mountain areas.
Two Koreas against Japan
It has meant a tough start to the Games for 2014 slalom winner Shiffrin, who has set her sights on four golds but has had both her events so far postponed.
With the women's giant slalom and slalom delayed until Thursday and Friday respectively, the skiing schedule is increasingly packed until the end of the Games.
But officials said they had no concerns about fitting in all the ski events, which include another 10 gold medal races before the closing ceremony on February 25.
"If the wind continues to blow for the next 15 days then I guess it might be a problem," said IOC spokesman Mark Adams.
"But... the International Ski Federation is well used to disruption by wind, by too much snow, by too little snow, by too much rain."
Wind also postponed the women's 15km individual biathlon until Thursday, and delayed the ski jumping competition in the Nordic Combined. Gold medals are also scheduled in luge and speed skating on day five.
Domestic attention will focus on the last outing of the joint Korean women's ice hockey team, a grudge match against arch-rivals and former colonial ruler Japan.
It comes after North Korea's Ryom Tae Ok and Kim Ju Sik successfully reached the pairs figure skating final, supported in the stands by their country's tightly choreographed "army of beauties" cheering squad.
"There has been no discomfort and now that we have competed, (we could see) how strong our Korean people can be when we are together," said Kim, 25.
"We are one people sharing the same bloodline."
North Korea ended months of tension with the South last month when it agreed to attend the Games, sending 22 athletes including 12 players for the hockey team.
Follow Emirates 24|7 on Google News.