Williamson achieves first of many expected NZ records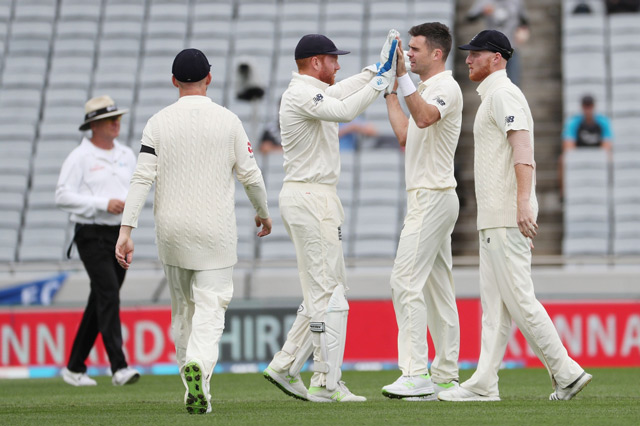 Kane Williamson's career has many more years left to run but the New Zealand captain reached the first of many milestones predicted of him since his breakthrough as a teenager with a routine shot in the first test against England on Friday.
With a simple single from a deflection behind square on the offside, the quietly-spoken 27-year-old became his country's most successful century-maker with his 18th test ton.
Former captain Martin Crowe and current team mate Ross Taylor are on 17, with the latter also expected to eventually surpass his mentor in the near future.
While Taylor is rightfully considered one of the best New Zealand batsmen of any generation, Williamson has been widely regarded as the greatest - even by Crowe himself and others who established important milestones in New Zealand cricket.
When Brendon McCullum scored New Zealand's first test triple century with a 302 against india in 2014, the former captain said he expected Williamson to surpass that one day, along with all the other New Zealand batting records.
It is hardly surprising.
As a teenager at Tauranga Boys' High School, he was notching massive centuries and always had an appetite for more.
"He obviously had a love for it and he kept finding the hunger to do more and more and more," former high school coach Rob Leslie told the Bay of Plenty Times in 2015.
"As a school kid he is easily the best back-foot player that we have ever had the privilege of seeing.
"Most kids can't even remotely do it. His example showed the other guys there was a way it could be done and it was not about swinging from the hip. He always hit gaps."
CENTURY ON DEBUT
By the age of 17 he was playing first-class cricket and led the national side at the under-19 World Cup in 2008 in Malaysia, where they lost to eventual champions india in the semi-finals.
He made his senior international debut in a 2010 one-dayer against india in Dambulla before scoring a composed 131, batting at number six, against the same opponents in his first test in Ahmedabad three months later.
Like many of the modern greats, Williamson accumulates to the point where his nonchalance at the crease means that by the time he has surpassed 70 runs in an innings, few can remember him even getting to 10.
Comfortable against both pace and spin, he has superb balance and footwork, and plays the ball directly under his eyes.
Most importantly, he works on his game continuously.
Even after making a big score, his first instinct is to head straight to the nets to learn how to get better, something Crowe marvelled at in a column for cricketing website ESPNcricinfo https://www.cricinfo.com in 2015.
"He was a sponge, and he was also a giver," Crowe wrote about a meeting he had with Williamson shortly after he had made his first-class debut.
"He kept the conversation alive, and you felt you could talk and share for yonks (ages), that it needn't end. He sought a new way, a different option, another route to scoring big."
Follow Emirates 24|7 on Google News.