1999: Waugh's Australians hold nerve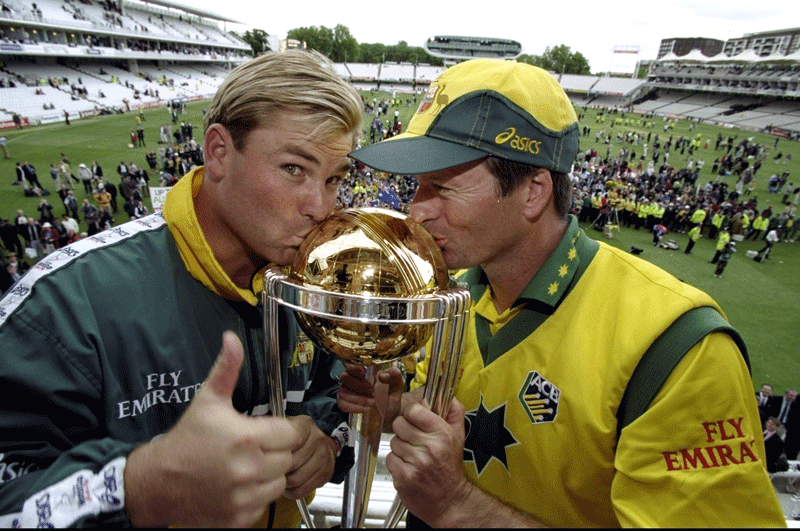 Steve Waugh's Australians held their nerve in testing conditions to lift the 1999 World Cup in England, while South Africa continued to wrestle with their fate.
South Africa bowed out of the 1992 Cup semifinal because of a 'rain rule' that reduced their target to an absurd 21 runs off one ball against England.
In 1999, South Africa failed to qualify for the final despite not losing their semifinal against Australia - they tied the game before bowing out on inferior net run-rate to Australia in the Super Six.
The 1996 format of playing quarter-finals straight after the group games was abandoned. Twelve teams were now divided into two groups, with the top three advancing to the Super Six.
Each Super Six side carried forward the points gained from matches played against fellow-group qualifiers. Then, each Group A team played each of the Group B qualifiers, with the top four moving into the last four.
Australia advanced to the Super Six without a point as they had lost to fellow-qualifiers Pakistan and New Zealand in group games. Just one slip at this stage could have sent them back home.
It nearly came against South Africa at Headingley chasing a stiff 272-run target.
Steve Waugh was on 56 when he offered a simple catch to South African century-maker Herschelle Gibbs, who held the ball before dropping it in premature celebrations.
The Australian captain needed just that slice of fortune to steer his team to a crucial win with an unbeaten century.
South Africa had lost an opportunity to knock Australia out of the competition.
The final was an anti-climax, with Australia thrashing Pakistan by eight wickets. Leg-spin magician Shane Warne grabbed four wickets in what turned out to be his last World Cup match.
Steve Waugh said the "inner strength" was the key to his team's success after a struggling start. Australia had lost two of their first three matches before winning seven in a row.
South Africa brought an innovation into the game which was promptly ruled out of the rest of the tournament by the organisers.
Coach Bob Woolmer communicated with skipper Hansie Cronje and paceman Allan Donald who wore earpieces on the field to pick up the coach's instructions on a one-way radio system during their opening match against India.
Lance Klusener, with his amazing big-hitting, emerged as one of the stars along with Pakistani paceman Shoaib Akhtar, who was involved in fascinating duels with batsmen.
India broke the monotony of low-scoring games, with Sourav Ganguly and Rahul Dravid adding a record 318 against Sri Lanka, and Dravid and Sachin Tendulkar putting on 237 for the third wicket against Kenya.
The tournament was also not without surprise results, with Zimbabwe beating South Africa and Bangladesh defeating Pakistan in group matches.
South Africa were to run into rough weather again, as hosts in 2003.
Follow Emirates 24|7 on Google News.