Australia expect Lee and Tait to fire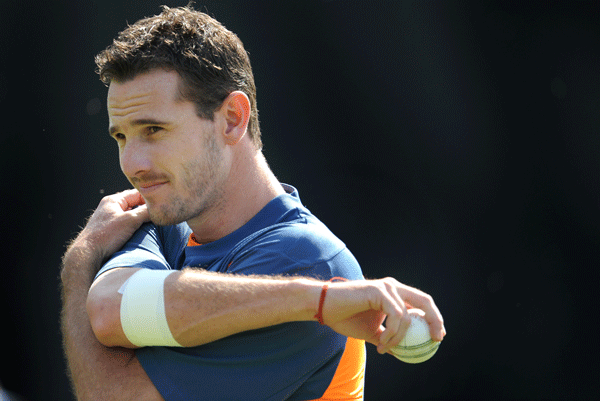 Australia expect fearsome pace duo of Brett Lee and Shaun Tait to remain fit and disciplined as they aim to clinch an unprecedented fourth successive World Cup.
The pitches may be low and slow in the sub-continent, but both are hungry for success as they have recently returned to the one-day side after recovering from injuries.
Australia have lost a potent weapon after the retirement of probing paceman Glenn McGrath, the leading bowler in the 2007 World Cup in the Caribbean with 26 wickets.
Lee, who missed the last edition due to an ankle injury, will be keen to do justice to his reputation of being as one of the most feared fast bowlers in the world when in form.
He wasted no time in adjusting to the conditions, giving a superb exhibition of pace bowling in the opening warm-up game against India in Bangalore to finish with three wickets.
He has the pace and variation to unsettle the best at the crease, as he proved in a recent home one-day series victory over England with 11 wickets in six matches.
"It's been 15 months away from the game. A lot of players expected me to get back and play cricket. I am proud that I could survive the adversity to a certain extent, and get back to cricket," said Lee.
"I don't see any problem with the pace which we have and playing on the slow wickets. At the end of the day, the ball is still coming at 150 kmh (93 miles an hour) through the air.
"The pitch is a massive part of the equation. But if you have a bowler like Tait bowling around 160 kmh at the batsmen's toes, it doesn't matter where you are playing. It is still going to hit the batsmen on the full."
Lee, with 335 wickets in 192 one-dayers, has the knack of striking at crucial stages.
Australia were bowled out for a modest 208 in a Super Six clash against New Zealand in the 2003 World Cup following paceman Shane Bond's amazing burst (6-23), but soon found a match-winner in Lee.
After McGrath had rattled the top order, Lee saw to it that New Zealand did not recover from early blows as he grabbed five wickets in his team's win.
Lee is not unknown to the conditions, having impressed in the Twenty20 Indian Premier League.
"A fit Brett Lee showed why the team had missed him so much last year and injuries aside, he will be the one bowler who may actually relish the conditions in India," former Australia batsman Mark Waugh wrote in a column in an Indian newspaper on Sunday.
Tait may sometimes be erratic, but Australia won't complain as long as he is picking early wickets to keep pressure on the opposition. He has so far grabbed 51 wickets in 28 one-day internationals.
He did not let his captain Ricky Ponting down in the 2007 edition, taking 23 wickets in his team's unbeaten run in the Caribbean.
"I've been really impressed with Brett since he's come back into the Australian team," Ponting said ahead of the tournament.
"Shaun Tait, I just want to let him go, let him run in and bowl fast and take wickets."
With Australia to rely more on pace than spin, the form and fitness of their fast bowlers, especially Lee and Tait, will be crucial.
They open their World Cup campaign against Zimbabwe in Ahmedabad on Monday.
Follow Emirates 24|7 on Google News.