Bangladesh eye World Cup quarter-final spot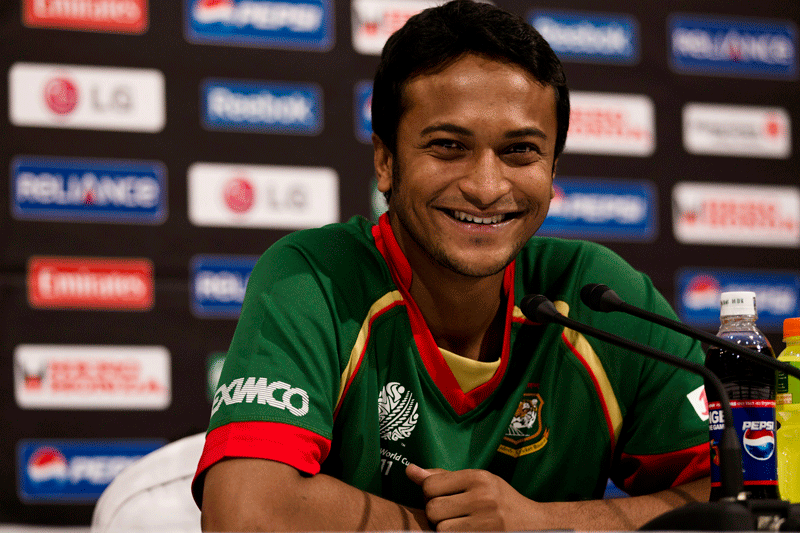 Bangladesh captain Shakib Al Hasan on Tuesday said his team were aiming for a quarter-final place in the World Cup and warned they were capable of "something big" on home turf.
The ace all-rounder said his side had grown in confidence recently after posting back-to-back victories over New Zealand and Zimbabwe in home one-day series.
"Certainly, we have been playing good cricket for the last 15 months. I think we have improved a lot. If we qualify for the second round, why not think of something big," said Shakib, 23.
"We have to win at least four matches to win a place in the second round. It is not difficult. I think we are capable of booking a place in the second round."
India, South Africa, England, the West Indies, the Netherlands and Ireland are the other teams in Group B, with the top four making it to the quarter-finals.
Bangladesh start their campaign in Dhaka with the tournament's opening game on February 19 against India, a repeat of their 2007 World Cup opening clash when they upset their rivals in the Caribbean.
The defeat eventually led to India's first-round exit.
"Since we played the last two series well, we are very confident. We have more positives than negatives. We have very good preparations for the first game," Shakib said.
He said playing his "dream" tournament in front of the home crowd would not put his young side under extra pressure.
"The crowd support us. Hosting the meet is a bonus for us. All players know the conditions better than anyone," said Shakib.
He said the team's morale received a boost after their one-day ranking moved one notch higher to the eighth place - the first time Bangladesh have risen to this position since they started playing one-day cricket in the 1980s.
The World Cup is being hosted by India, Sri Lanka and Bangladesh, with the final to be played in Mumbai on April 2.
Follow Emirates 24|7 on Google News.