Bangladesh gun for revenge against Ireland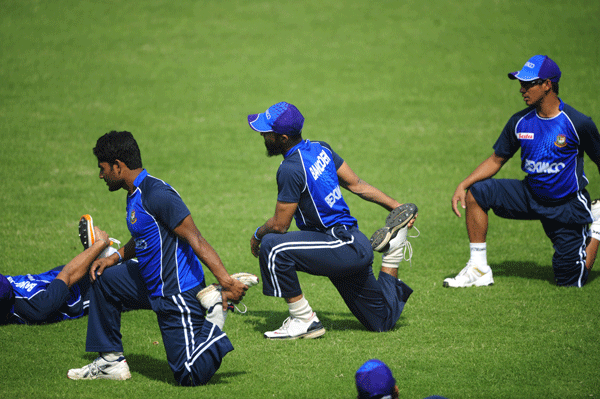 Bangladesh go into Friday's World Cup match against Ireland determined to resurrect their campaign by avenging two successive losses to their rivals at major events.
Ireland defeated Bangladesh by 74 runs in the now-scrapped Super Eights round in the 2007 World Cup in the Caribbean and then won by six wickets in the World Twenty20 in England in 2009.
Bangladesh cannot afford another defeat, having lost their opening match against India by 87 runs last Saturday, setting the stage for a keenly contested day-night match.
"No one likes to lose, so yes, we want to beat them and take revenge," said wicket-keeper Mushfiqur Rahim ahead of the Group B clash at the Sher-e-Bangla stadium.
"Ireland are a good team but we will try to spoil their party and make sure that it is not the other way around."
Ireland have trained hard over the last few months to adjust to the unfamiliar conditions of the sub-continent, but Rahim was confident the visitors can be beaten.
"No matter how much they practice here, they will find it hard to cope with our world-class spinners," he said of the leading non-Test side.
"We are expected to win against Ireland and will try to live up to everyone's expectations. The only pressure is the challenge to prove ourselves in big tournaments."
Playing before 25,000 boisterous Bangladeshi fans will test Irish resolve, just as it did in 2008 when Bangladesh won all three one-day internationals at the same venue.
Rahim's Irish counterpart Niall O'Brien, however, said those defeats will not make a difference as his side prepared for their first match.
"That was a long time ago," he said. "We have beaten Bangladesh three of the last four times we have played them. Our confidence is high because we know we have a good enough team to win here."
Ireland's squad includes nine players who took part in the memorable 2007 campaign, where they knocked out Pakistan from the first round before taking Bangladesh in their stride.
The Irish will be boosted by the presence of batsman Ed Joyce, who played 17 one-dayers for England before opting to turn out for the land of his birth.
Bangladesh must beat both the non-Test nations, Ireland and the Netherlands, and one of the established sides from England, South Africa and the West Indies, to progress to the next round.
Bangladesh emerged from the defeat against India with a few positives, including a spirited chase of the massive 371-run target as Tamim Iqbal made 70 and Shakib hit a fluent 55 off 50 balls.
But the Tigers' bowlers took a beating at the hands of the rampaging India, with seamer Shafiul Islam going for 69 runs in his seven overs and new-ball partner Rubel Hossain conceding 60 runs in 10 wicketless overs.
Former captain Mohammad Ashraful, Bangladesh's most successful one-day batsman with 3,360 runs from 164 matches, may be included in the side after being ignored against India.
Ashraful could replace off-spinner Naeem Islam, or even seamer Rubel Hossain if Bangladesh choose to attack Ireland with a three-man spin attack led by skipper Shakib Al Hasan and Abdur Razzak.
Follow Emirates 24|7 on Google News.