Besieged Pakistan eye shock, surprise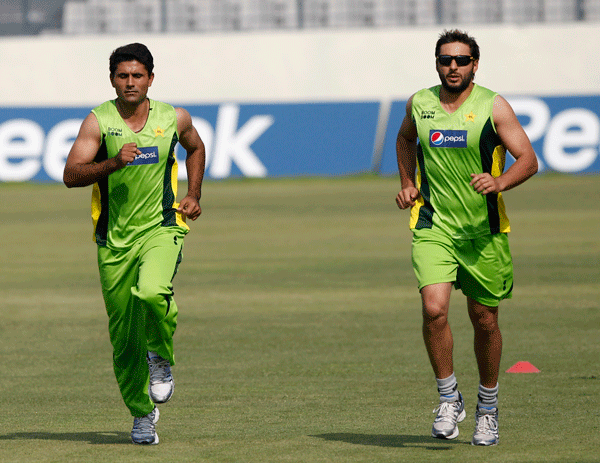 With three key players banned for corruption and their homeland a no-go zone for international cricket, Pakistan face a mighty challenge if they are to win a second World Cup.
That's the view of Imran Khan, the legendary captain who led his country to the 1992 world title.
He believes that the bans handed out to opener Salman Butt and new-ball bowlers Mohammad Asif and Mohammad Aamer will hit Pakistan's chances.
"Without Aamer and Asif - currently two of the world's best bowlers - our attack is not potent," Imran told AFP.
Pakistan's build-up to the World Cup has not only been marred by the spot-fixing scandal, but also by the uncertainty over the selection of wicket-keeper Kamran Akmal, former captain Shoaib Malik and leg-spinner Danish Kaneria.
All have been under suspicion but only Kamran got clearance from the Pakistan Cricket Board (PCB), while the other two were not selected in the 15-man squad.
To make matters worse, the PCB delayed naming the captain for two weeks, raising doubts that one-day captain Shahid Afridi may be replaced with Test skipper Misbah-ul Haq.
It was only after Pakistan won their recent one-day series in New Zealand 3-2 that Afridi was retained.
But Imran still believes Pakistan can surprise if they play above their potential.
"Pakistan are a very unpredictable side," he said. "They will have to play out of the ordinary to make a mark at the World Cup.
"I fail to understand why they delayed naming the captain because Afridi is the only player who can pull the team together, both as player and as captain."
Former spinner Iqbal Qasim said Pakistan can shake up the whole tournament.
"Pakistan are the only team in the world who can do anything, shake up the whole tournament by beating any top team and can also give a 440-volt jolt to their fans by going down to any team," said Qasim.
Pakistan's build-up for the 2003 and 2007 World Cups was similarly chaotic, resulting in first round exits on both occasions.
Despite having a balanced squad, Pakistan lost to minnows Ireland in the West Indies four years ago.
A day after the shock defeat, their English coach Bob Woolmer died at the team's hotel in Jamaica in mysterious circumstances.
Jamaican police initially treated the death as murder and questioned the Pakistani players before declaring Woolmer had died of natural causes.
Afridi is hoping for a less-chaotic World Cup this time around.
"We have our full attention focused on the World Cup," said Afridi, who played only one match in the 2007 World Cup because of a ban.
"We have a balanced team and if we play to our potential nothing is impossible."
Without experienced batsman Mohammad Yousuf, not selected due to a lack of fitness, and Shoaib Malik, Pakistan's batting looks fragile.
Veteran batsman Younis Khan will be the mainstay in a line-up which has exciting talents in Umar Akmal, Ahmed Shahzad and Asad Shafiq.
Former captain Wasim Akram believes Afridi and Abdul Razzaq hold the key.
"If the top order gives Afridi and Razzaq a good platform, then they can be ruthless in the death overs," said Wasim, who also termed bowling as the weak link.
Controversial paceman Shoaib Akhtar has a last chance to bow out on a high.
He missed the last World Cup in the wake of a doping ban and fitness problems.
Umar Gul, Sohail Tanveer, Wahab Riaz and Razzaq can share the new ball with off-spinner Saeed Ajmal and left-armer Abdul Rehman will assist spinning all-rounders Afridi and Mohammad Hafeez.
"After the first stage, it's anybody's game and when it comes to knock-out matches, Pakistan can knock any team out on their day - they are a very dangerous team," said Wasim.
Follow Emirates 24|7 on Google News.