British press slams 'shamed' cricketers after Irish loss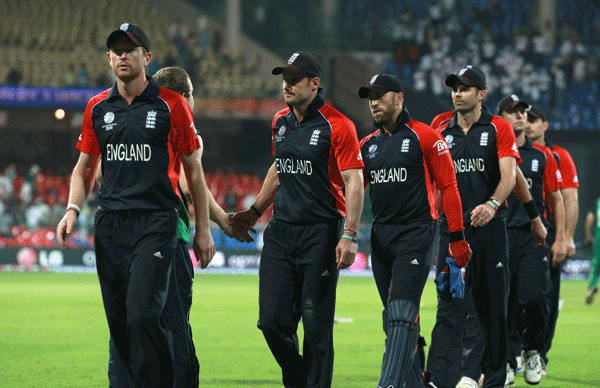 England's "shamed" cricketers came in for a slogging in the British press on Thursday after they crashed to a humiliating defeat against minnows Ireland in their World Cup match in Bangalore.
"England shamed by O'Brien," the tabloid Sun said in its headline.
"England were left looking like a pub side as Kevin O'Brien smashed the fastest ever World Cup century," the paper claimed.
England looked to be cruising in Wednesday's Group B match after accumulating 327 in their innings and reducing Ireland to 111/5. At this point, odds of an Ireland win were as long as 400-1.
However, pink-haired all-rounder O'Brien, who had never reached fifty in his nine previous World Cup innings, blasted a scintillating century to turn the match on its head.
The Telegraph's editorial attempted to put the shock three-wicket defeat into context.
"Over the years, England's national sports teams have been on the wrong end of some infamous defeats," it said.
"Until yesterday, America's 1-0 victory in the football World Cup of 1950 was probably the most notorious. But the extraordinary triumph of Ireland's cricketers in their World Cup group match in Bangalore must rank alongside any sporting upset of yore."
Richard Hobson, writing in The Times, lauded the swashbuckling batsman's unusual style.
"With dyed pink hair, Kevin O'Brien looked more like the frontman in a punk rock band than a cricketer yesterday and there was a strong element of punk about the innings that has left England clinging to their World Cup place," Hobson wrote.
"Bold and brash, raw and uninhibited, it was the equivalent of a snarling, two-fingered salute to the mainstream," he added.
The Telegraph's Simon Briggs highlighted O'Brien's unorthodox journey from club cricketer for the Papplewick and Railway Union teams to World Cup matchwinner.
"If it is a long way from Papplewick and Railway Union to the M Chinnaswamy Stadium in Bangalore, the shift from club cricket to the World Cup must be bigger still.
"But on the evidence of this insouciant innings, no one has told Kevin O'Brien, England's demolition man," Briggs added.
BBC cricket correspondent Jonathan Agnew predicted England would find it hard to regroup after the breathtaking defeat.
"We've had a week of superlatives in Bangalore - the greatest matches, the greatest centuries in England's game against India, but clearly as a one-day innings Kevin O'Brien's magnificent 113 from 63 balls is up there with the best of them.
"England will be devastated by this result, (they) look like a team that will not go any further than the quarter-finals," Agnew said.
The Guardian's Kevin Mitchell echoed Agnew's concerns.
"Nobody in the aftermath on Wednesday seemed able to put a name to the malaise," Mitchell said.
"It was not tiredness... or was it a lack of diligence on the practice field, said those close to the action. However, through the prism of television at home, the image was clear enough in their body language."
Follow Emirates 24|7 on Google News.