Canada plot repeat of famous win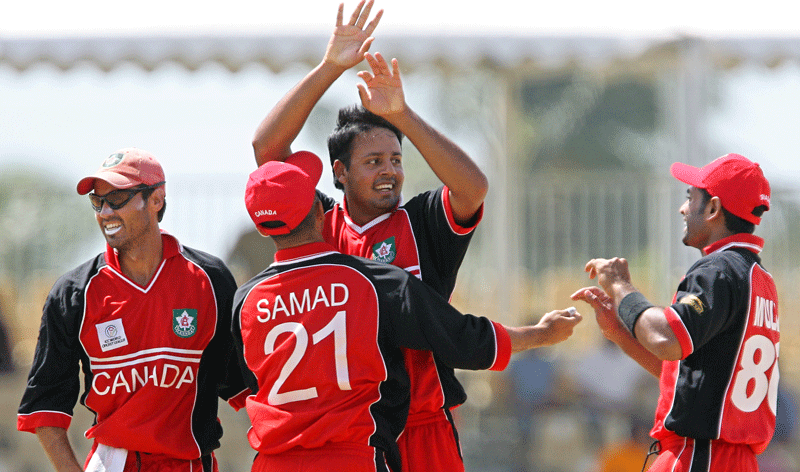 Canada launch their World Cup campaign desperate to snap a long losing streak at cricket's showpiece event since a famous victory over Test side Bangladesh eight years ago.
The North American side have gone eight games without a win at the World Cup - the joint-third worst losing streak in the tournament's history - since the shock 60-run victory over Bangladesh in South Africa in 2003.
Skipper Ashish Bagai was part of the side that posted 180 runs against the South Asian team and then bowled them out for just 120 in Durban, in Canada's first full international since 1979 - for their first ever win in an ODI.
This year he will captain a team light on World Cup experience with Henry Osinde and veteran all-rounder John Davison the only other players with previous World Cup experience.
Indian-born Bagai is ranked close to the top 50 in the ODI batting rankings, averaging an impressive 37.73 with two hundreds and 14 fifties in 54 matches.
Davison, 40, who has played first class cricket in Australia, set the record for the fastest World Cup hundred, off 67 balls against the West Indies, in 2003, until Australia's Matthew Hayden broke his record in 2007.
The side also hold the dubious record of notching the lowest score in World Cup history, all out for just 36 against Sri Lanka in 2003 in a match lasting just 140 balls, the shortest match in terms of balls bowled in World Cup history.
Canada have honed their limited-overs skills by taking part in the domestic Caribbean Twenty20 competition.
The squad features seven players who have come through the country's youth programmes.
"We are confident that we have found the right mix of youth and experience," said chairman of selectors Chris James when the initial, 30-player squad was announced.
"We look forward to showcasing the talent of these chosen players and anticipate a significant improvement from our last appearance at the World Cup."
Three Pakistan-born players faced an anxious wait to find out whether they would be granted visas to enter India - vice-captain Rizwan Cheema, Khurram Chohan and Hamza Tariq.
But Canada have received a timely boost with the announcement that all three have had their applications cleared.
Canada, who played in the second World Cup in 1979 and then in 2003 and 2007, start their campaign against Sri Lanka with other heavyweight Group A opponents including Australia, Pakistan and New Zealand.
Follow Emirates 24|7 on Google News.