Canada worries over ICC decision to cut non-Test teams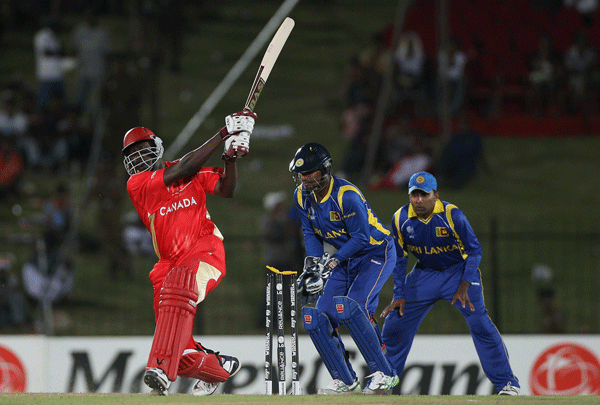 Canada is fearing for its developing cricket set-up after the sport's governing body confirmed plans to reduce its 50-over World Cup from 14 to 10 teams at the next edition in 2015.
The game's rulers fear the World Cup has become too bloated with meaningless, lop-sided matches. The current event, launched on Saturday, stretches six weeks to an April 2 final.
It will mean the majority of associate members or non-Test playing nations will no longer be able to participate in cricket's showpiece although they will still have the chance to play in the increasing popular 20-over version.
Canada lost their first game against co-hosts Sri Lanka by 210 runs on Sunday, adding to the case of ICC chief executive Haroon Lorgat's decision to cut the number of teams at the next World Cup in Australia and New Zealand.
"We are worried about that. There is no answer at this point," Canadian coach Pubudu Dassanayake, referring to the ICC's decision, told reporters after the heavy defeat.
"There has been a lot of development in Canada cricket in the last two to three years. But from now onwards we don't know which way we have to go," he said.
However, Dassanayake said he will 'do everything' to build a better team for the 16-nation Twenty20 World Cup scheduled to be held next in Sri Lanka in 2012.
"Our plan is to develop the game and by 2015 or maybe more years to become a full member. Cricket is growing in Canada in a big way. Lots of South Asians are moving there," he said.
"Right now our focus is schools. We have a lot of hurdles as we play cricket from May to September but school holidays are from June to September. So playing inter school cricket is a task. But we are working on that. It has to be improved.
"For us, cricket is the number one game but for Canada it's ice hockey, basketball and baseball although because of the South Asian population here, we've been able to develop the game."
Mahela Jayawardene, man of the match for Sunday's game after a match-winning century and Sri Lanka's vice-captain, said cutting down the associate members for the next World Cup would be a 'tough call'.
"I think associate members should be around as well. Sri Lanka was an associate member not that long ago in 1975 and 1979," he said.
"We need to give them that opportunity. If not then they need to play a lot more regular cricket probably with the top nations. They need to organise certain things so that their cricket can be improved.
"Cricket is a global game and we need to try to make sure everyone plays and try to lift those standards hopefully one day."
The smaller cricketing nations have pulled off several shocks in the 36-year-old World Cup over the years.
Kenya beat West Indies in the 1996 World Cup, Bangladesh defeated Pakistan in 1999, while Ireland famously sent Pakistan out of the tournament in the last tournament.
Follow Emirates 24|7 on Google News.