Canadian 'Tendulkar' dreams of England future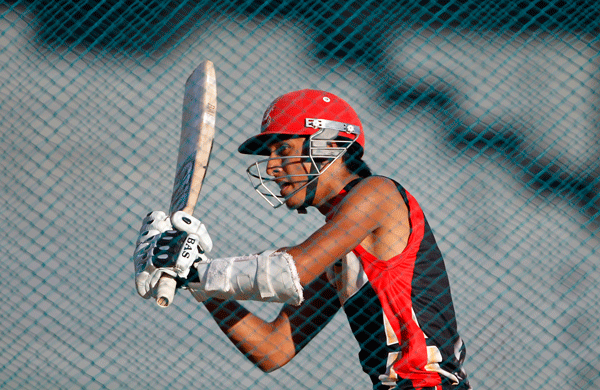 Nitish Kumar has serious business to attend to during the long rest periods at the Cricket World Cup - armed with a stack of textbooks and notes, the Canadian batsman has his high school homework to complete.
Kumar was only 16 years and 283 days old when he played his first World Cup match at Monday's Zimbabwe game at Vidarbha Cricket Association Stadium and became the youngest player to take part in any World Cup game.
He may have scored only one run facing 10 balls as his team suffered a 175-run loss but the Woburn Collegiate Institute student is thrilled to represent Canada - for the time being.
"It's a privilege, playing with great players," he told Reuters in an interview soon after his net practices ahead of another tough Group A game against Pakistan on Thursday.
Even if Kumar proves his batting talent, his team are unlikely to play in the next World Cup in Australia and New Zealand in 2015 as the International Cricket Council has already announced plans to reduce the tournament from 14 to 10 teams.
Canada also have very little or no chance of getting Test status in the near future.
"At the moment I am not really concerned about that because the focus is on this World Cup," said Kumar, who wants to play county cricket in England in the future.
"Without Canada, I won't have this chance. But it will be great to play county cricket and move forward from there.
"I would love to play in England where county and professional cricket is quite good. We can't do that in Canada. I would like to play good county, good cricket."
When asked if he wanted to move to any other of the better cricket-playing nations, he said: "If there is no World Cup for Canada, then yes. I would like to play for England or India. India may be quite hard."
The way England performed in their shock three-wicket defeat by Ireland on Wednesday, this could be sooner rather than later once Kumar establishes his qualification credentials.
Nicknamed Canada's Tendulkar for his aggressive batting, Kumar in the Zimbabwe match opened for Canada with John Davison, the oldest player in the current World Cup, 24 years the senior of the Ontario-born right hand batsman.
"It was a great game and very hard but quite enjoyable. Being from the under 19 World Cup last year to this one I see a great difference in levels, skills and how people play."
Outside the game, Kumar says he wants to specialise in sports sciences, following his two elder sisters.
"I am still in high school bringing homework along with me, doing some homework in off days and when I am not playing.
"But the greater focus is on cricket at the moment. I want to be a professional cricketer first. The studies are just as a back-up."
Combining cricket with studies has been the biggest challenge for this teen, born in Scarborough, Ontario, with family roots from Punjab in India.
"At one point I was really stressed with all the school work when nights were passing. But when you go and play cricket you are enjoying yourself and the experience is great, so I try not to get too stressed about school and focus on here," he said.
"For me, first it's cricket. I want to do something in cricket. My family gives me great support. They want me to play cricket, so they send me off every time I can go.
"Teachers who have played any sports before, they understand how big an occasion this is as it doesn't happen to everyone. They are actually behind me."
When asked about his favourite cricketer without any hesitation he replied: "It's Sachin Tendulkar. He is amazing. He is a simple guy and very friendly. I haven't played against him yet. Hopefully I will in the future."
Kumar was born in 1994, when Tendulkar was in his fifth year on the international cricket scene, as the only son of parents who moved from Punjab to Canada when they were young.
When he was 11 years old, Kumar witnessed his steel businessman father's death in a road accident in 2005.
"It's a big loss," he said. "The reason why I started cricket was because my dad used to go, watch and play. It's a big loss for me but he is with me I know.
"Every time when I play, I have a picture of him in my bag, so I remind myself that he is also with me.
"I still have so many relatives in Punjab, but I haven't met them yet. They are quite happy for me playing and seeing me on television."
The young cricketer, who can speak Hindi, Punjabi, French, and English, can also bowl off-breaks.
"Now the main focus is on batting. I want to be a really good batsman, score a lot of runs and be a very consistent player. A player who other people can watch and say 'this guy has done well and his performance is consistent for his country'."
Follow Emirates 24|7 on Google News.