Cup coaches have different goals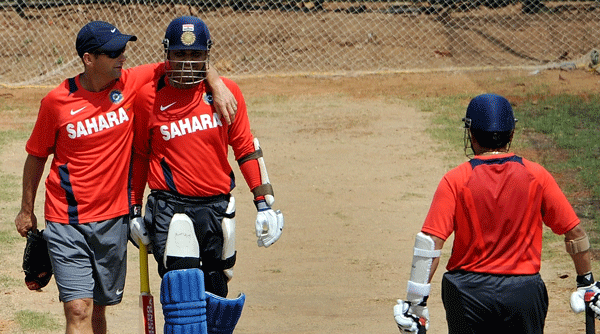 They don't win matches by smashing sixes or grabbing wickets but prefer plotting their teams' success behind the scene.
Fourteen coaches go into the World Cup with different goals, some eyeing the trophy while others seek improvement. The only thing unacceptable to all of them is under-performance.
Seven of the nine Test-playing nations named new coaches after the 2007 event in the Caribbean for different reasons, highlighting the significance of their role.
India coach Gary Kirsten, England's Andy Flower, Australian Tim Nielsen, Sri Lanka's Trevor Bayliss, South African Corrie Van Zyl and Pakistan's Waqar Younis believe they have the team to hit the jackpot.
Coaches of the remaining three Test nations - Jamie Siddons (Bangladesh), John Wright (New Zealand) and Ottis Gibson (West Indies) - are also hungry for success and expect their teams to improve upon their 2007 performances.
With Mahendra Singh Dhoni as captain and former South Africa batsman Kirsten as coach, India have done remarkably well in recent years to eventually become number one in Test and two in one-day rankings.
Kirsten is likely to step down after the tournament.
Expectations grew with each success and millions of fans now want India to bury bitter memories of the 2007 edition that saw them crash out in the first round.
England are the in-form team, having recently won the Ashes in Australia for the first time in 24 years. Flower's biggest challenge is to make England believe they are as formidable a side in one-dayers as in Tests.
"Andy Flower is a guy we all respect for what he's achieved and how he holds himself in the dressing room. He's been incredible," England captain Andrew Strauss said.
Bayliss played a major role in helping Sri Lanka improve their Test and one-day rankings and expects his team to repeat the 1996 feat in his last assignment.
Sri Lanka have also set lofty standards as they were the champions in 1996, semifinalists in 2003 and runners-up four years later.
"The World Cup success is a very big thing here in Sri Lanka. Everyone involved in cricket would like to copy what happened in 1996," said Bayliss.
Nielsen will feel the heat when Australia make a bid to win a fourth successive Cup without key players - Glenn McGrath, Matthew Hayden, Adam Gilchrist and Andrew Symonds.
Australia, who did not lose a match in the last two editions with John Buchanan as coach, may not find it easy this time as they have shed much of their strength in recent years.
They, however, remain a team to beat in one-dayers.
Waqar, looking for consistency from his team, has said restoring faith among the players will be his top priority.
"My first task will be to mix with the players and raise their morale," Waqar said after being named coach last year.
Pakistan will be determined to put in a solid all-round performance this time after their first-round exit in the last edition.
South Africa had to be content with semifinal finishes in 1999 and 2007 as they faltered at crucial moments.
Van Zyl hopes his side handle the pressure better this time as they have the talent to beat the best.
Bangladesh, who made history by advancing to the second round in 2007 with Dav Whatmore as coach, have been steadily improving in recent years and the credit also goes to Siddons.
Their best came last year when they blanked New Zealand and Zimbabwe in home one-day series.
Wright, India's coach when the team reached the 2003 final in South Africa, is expected to revive New Zealand's fortunes after the team's recent poor performances, including 11 successive defeats in the sub-continent.
Follow Emirates 24|7 on Google News.