'Fab' five promise batting feast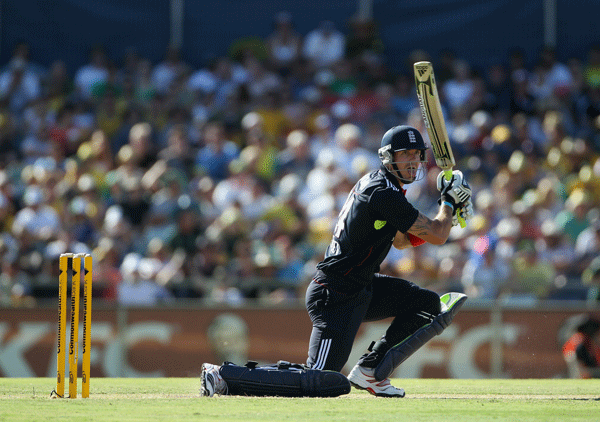 Imagine Kevin Pietersen, Sachin Tendulkar, Chris Gayle, Jacques Kallis and Shahid Afridi batting for the same team. Their captain could relax, but not the bowlers in the opposition.
Pietersen's improvisation, Tendulkar's strokeplay, Gayle's power-hitting, Kallis's conventional but highly effective approach and Afridi's unorthodox shots will make bowlers believe they have strayed into wrong territory.
With India's Tendulkar opening an innings with West Indies' Gayle, runs are bound to come thick and fast from both the ends as they like dominating the attack on all tracks.
Tendulkar has amassed a record 17,629 runs with 46 centuries - the most by any batsman in one-dayers - but retains the desire to excel and the love for the game even after spending more than two decades in international cricket.
The 37-year-old is getting better and hungrier with age, having smashed the first double-century (200 not out) in one-day internationals only last year, against South Africa in Gwalior.
Tendulkar will be keen to deliver as much for himself as for his team, for he will be playing in his sixth and probably last World Cup, the only trophy missing from his showcase.
Left-handed Gayle is known for ruining bowlers' line, length and reputation when on song with his explosive power-hitting. Pace or spin, Test or one-dayers, he just believes in attacking the bowling.
He batted in the opening Test against Sri Lanka at Galle last year as if in a one-dayer, racing to 333 with 34 fours and a West Indian Test record of nine sixes.
Gayle also became the fourth batsman to hammer two triple-centuries in Tests after compatriot Brian Lara, Australian Don Bradman and India's Virender Sehwag. His form will be the key to his team's fortunes in the mega event.
England's Pietersen, currently one of the most exciting batsmen, is second to none when it comes to boldness and inventiveness. His penchant for switch-hitting has only made field-setting difficult for the rival captains.
With England lacking a free-stroking batsman at the top, like Gayle or Sehwag, they are expected to rely on Pietersen's big-hitting in setting or chasing a stiff target.
England failed to reach the 2007 Cup semifinals in the Caribbean, but Pietersen enhanced his reputation as a big-stage performer. He was the only England batsman to score a century.
In fact, he made two - 104 against eventual winners Australia in Antigua and 100 against the West Indies in Bridgetown.
South African Kallis, dubbed the 'Gary Sobers' of contemporary cricket, is every captain's first choice because of his ability to provide solidity to middle order and sharpness to the attack with disciplined seam bowling.
He may not be as aggressive as Gayle or Sehwag but is more consistent and can give a lesson or two to many in building an innings under pressure in both Tests and one-dayers.
Kallis, who has completed a rare double of 10,000 runs in both Test and one-day cricket, is an all-surface batsman as he has the technique and temperament to neutralise the efficacy of any bowling attack.
He is also a match-winner with the ball, having so far captured 270 wickets in Tests and 259 in one-dayers, although his effectiveness in the tournament will be curtailed by a side strain.
Pakistan's Afridi may not be consistent, but has an amazing range of shots to change the course of a match in a few overs. No target is insurmountable when he begins firing.
He is one of the most feared batsmen in one-dayers with an ability to smack even a good delivery for a boundary. He has the fastest hundred to his credit in this format - off 37 balls against Sri Lanka in Nairobi in 1996.
Afridi is also an effective leg-spinner and a brilliant fielder.
Follow Emirates 24|7 on Google News.