Final throw of captaincy dice for Vettori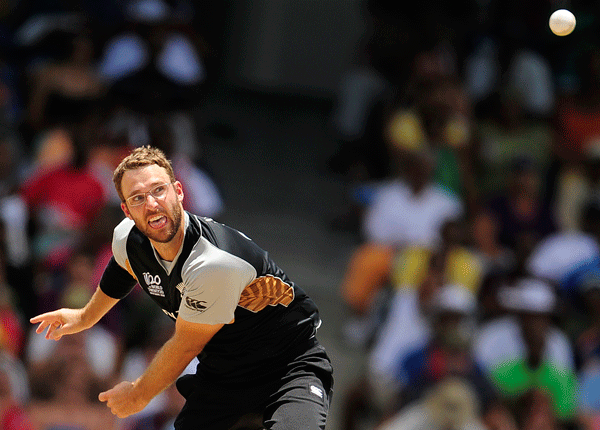 New Zealand's performance at the World Cup could well be the marker for the legacy of Daniel Vettori's captaincy as the sun sinks on his four years of leadership.
Vettori is to step down as captain at the end of the World Cup ending a reign in which at times he wielded almost total power over the Black Caps.
Although he intends to continue to be available for New Zealand for years to come it will be as "one of the boys", albeit a very senior one.
Vettori was the youngest player ever to represent New Zealand at the age of 18 - taking 2-98 in his first innings against England in 1997 - and is now one of only eight players to have more than 300 Test wickets and 3,000 runs.
His target is to be only the second player behind India's Kapil Dev to take 400 wickets and 4,000 runs. He already has 4,053 runs and 339 wickets.
Renowned for his single-minded determination, Vettori is also aware of the reputation he has built as he rose to be captain and at times coach and selector during 14 years as a Black Cap.
"There's obviously a perception out there that I wanted everything my own way. That's far from the case," Vettori said when he ended a week-long silence to comment on the appointment of John Wright as coach in December.
"I have always wanted someone to come in and challenge people, including myself, and help create an environment that gets the best out of this team. I think Wrighty can do that."
In the four years since Vettori took over the captaincy New Zealand won only six of 32 Tests and four of those were against Bangladesh.
They have also suffered their second longest run of losing ODIs, being beaten in 11 straight before winning the first of the just completed series against Pakistan.
During his reign, New Zealand has slipped to eighth in Test rankings and seventh in the ODIs as Vettori had to wrestle with retirements and rebuilding, rarely leading a side strong from one to 11.
But throughout it all his own form has been solid as he underwrote his transformation from a spin bowler to an all-rounder, although with the ball he relies now more on flight and pace variation than sharp spin.
Vettori's ODI future is uncertain once he relinquishes the captaincy after the World Cup but Test cricket definitely remains a focus.
"Test cricket is a part of the game I love. I want to play it for as long as I can and there are still things I want to achieve. There's no way I want to finish with Test cricket."
Follow Emirates 24|7 on Google News.