I want to bat entire 50 overs, says Sehwag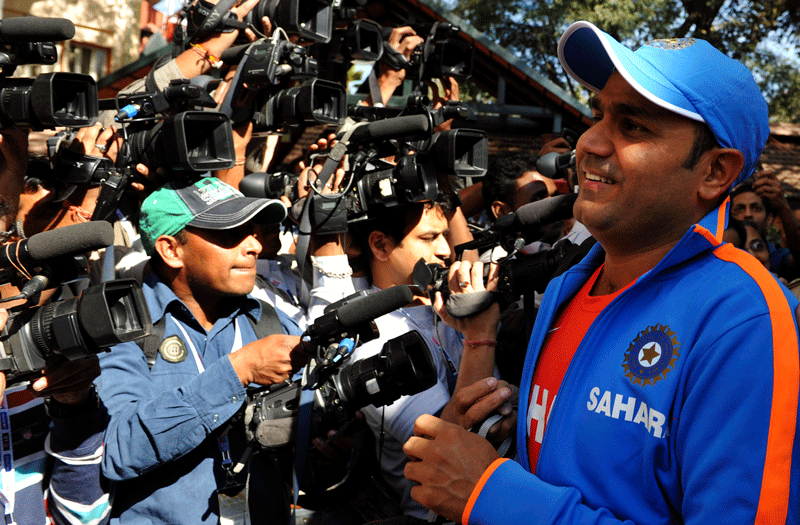 Hard-hitting Indian opener Virender Sehwag on Friday sounded a warning to rival bowlers ahead of the World Cup, saying he planned to bat right through the innings.
Sehwag, who opens the innings with batting superstar Sachin Tendulkar, is known for giving his team flying starts with his hard and clean hitting and has so far scored 7,380 runs in 228 one-dayers with 13 centuries.
"I think I have never played 50 overs in one-day cricket. The maximum I have played is 43 or 44 overs," said Sehwag, 32.
"But this time, I will try to bat 50 overs and give a good start to the team. I have been unsuccessfully trying this for the past 10 years, but the effort is still on."
Sehwag said he was not feeling any pressure as his captain Mahendra Singh Dhoni and coach Gary Kirsten had always backed him to play his natural game.
"The coach and captain just allow me to bat the way I bat. So, they are not putting any pressure on me. They have said 'you just go and play your natural game'," said Sehwag.
"My role is to go out there and enjoy myself and give a good start to the team. If I score 20 runs in 10 balls or 100 in 70 or 80 balls, I am happy with that."
He said India were eagerly looking forward to their opening match against Bangladesh in Dhaka on February 19, a repeat of their 2007 World Cup clash in the Caribbean where they lost by five wickets.
The defeat eventually led to India's first-round exit.
"I think we have lost just two games against Bangladesh, including the one in the World Cup," said Sehwag.
"We know that in the last World Cup we lost to them, so we are waiting for the match against Bangladesh. We are charged up for the game and hopefully, we will do well against them this time."
Sehwag, who missed a recent one-day series in South Africa due to a shoulder injury, is also a useful off-spinner, having taken 92 wickets.
India are in Group B with South Africa, England, the West Indies, Bangladesh, Ireland and the Netherlands, with the top four sides making it to the quarter-finals.
Follow Emirates 24|7 on Google News.