New Zealand seek home for McCullum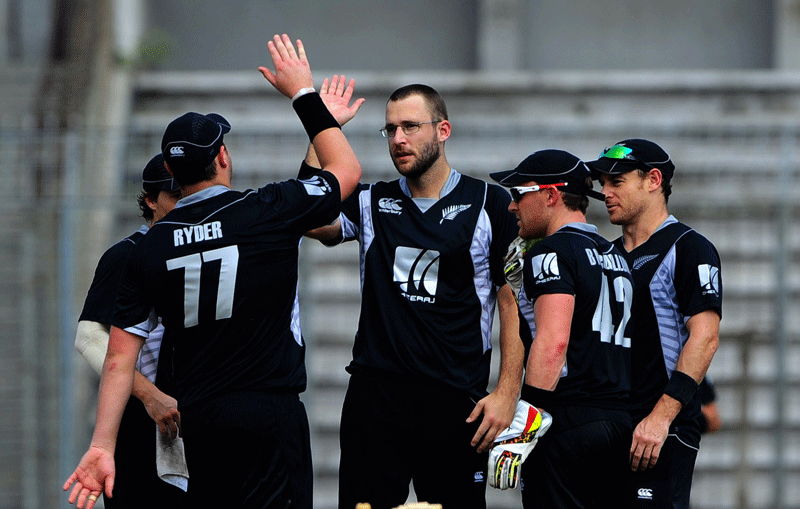 The enigma that is New Zealand cricket was highlighted when captain Daniel Vettori said the batting responsibility lay with the top order and match-winner Brendon McCullum was promptly moved down.
New Zealand go into the World Cup low on confidence, having lost 14 of their last 16 one-day internationals and showing signs the selectors, coach and players have not been singing from the same song sheet.
Their two wins in recent months were a nine-wicket demolition of Pakistan in the first match of their just-completed series and a consolation 57-run win at the end.
In between they were spectacularly outplayed with bat and ball.
Following their run of losses last year, the Black Caps underwent a drastic overhaul ahead of the Pakistan series with John Wright brought in as coach and an independent selection panel installed.
The masterplan was to assemble a side with experience - six return from the team that made the World Cup semifinals four years ago - with a batting line up that stretched from top to tail.
But instead of bedding in an 'A' team, the selectors opted for a rotation system to give all 15 squad members game time in the Pakistan series with confusion over where best to play the swashbuckling McCullum.
"This team need confidence," former Test opener Mark Richardson wrote in his newspaper column at the start of the series.
"Confidence is gained by doing your thing with success and regularly. I just can't see how changing things each game is going to build confidence."
It didn't as Ross Taylor, deputising as captain for the injured Vettori acknowledged when Pakistan wrapped up the series with a game to spare.
"Obviously confidence is low," Taylor said after the 41-run loss in the fifth ODI.
The 15-man World Cup squad contains few surprises.
Newcomer Luke Woodcock joins Vettori and Nathan McCullum as the third spinner to take advantage of the sub-continent wickets and at the expense of a specialist back-up wicketkeeper.
With Brendon McCullum playing down the order it ensured a place for batsman Jamie How who also has the responsibility of being the second gloveman.
Whether he is required will depend on the performances of the apparent first choice top order of Martin Guptill, Jesse Ryder, Ross Taylor Scott Styris and possibly Brendon McCullum.
Tim Southee and Hamish Bennett are the favoured new-ball pair, backed by spinners Vettori and Nathan McCullum and with experienced medium pacers Styris and Jacob Oram leaving the veteran Kyle Mills fighting for a place.
It is a squad suited to bowling first and, with the batting depth, chasing down a total.
But the McCullum experiment did not work against Pakistan and for the final game he was restored as opener where he and Ryder have produced five century stands and four 50-plus partnerships in 22 innings.
"The responsibility is still on the top order, you look at most one-day games and the top four gets the job done," Vettori said, but he added: "The thing we've missed the most over the last year or so is that finishing ability."
Wright, who guided India to the 2003 final where they were beaten by Australia, favours picking the best XI from the squad of 15 a luxury he was denied against Pakistan where the independent selectors produced sides based on a rotation system.
He favours a balance of six batsmen, including McCullum and five bowlers, but where to place McCullum between one and six was a problem.
"What would solve all of that would be if we had batters in form and making hundreds. If we can have two batters making significant innings then everything is going to flow from that. We haven't had that and it needs to happen."
Follow Emirates 24|7 on Google News.