Pakistan desperate to avoid repeat of upsets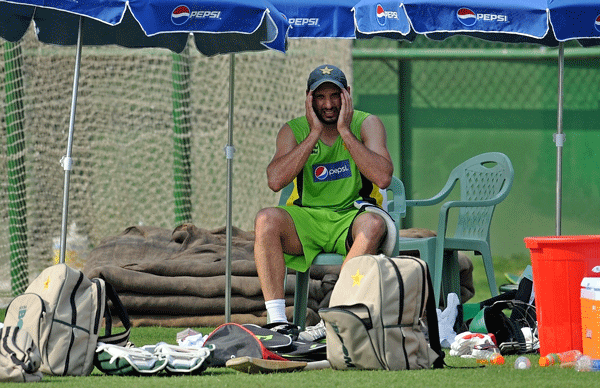 Pakistan face minnows Kenya in their opening World Cup match on Wednesday, desperate to atone for their tragedy-hit 2007 tournament.
Four years ago, Pakistan suffered an embarrassing three-wicket defeat at the hands of outsiders Ireland in Kingston and crashed out in the first round.
As if the humiliation was not enough, their English coach Bob Woolmer died the very next day, threatening the World Cup and putting the players under investigation by the Jamaican police who initially treated the death as murder.
Even after the death was declared as due to natural causes, Pakistani players came in for severe criticism from home fans who wanted them punished for their first round exit - their second in as many events.
Captain Shahid Afridi said his team will take all opponents here seriously.
"There have been so many upsets in the World Cup in the past, like the one against Ireland four years ago, so we have that in mind and we will be on our toes in every match, be it Kenya or Sri Lanka," Afridi told AFP.
The current Pakistan squad has only four survivors from that Irish defeat - Younis Khan, Umar Gul, Mohammad Hafeez and Kamran Akmal - but Afridi said no player has forgotten the shattering loss.
"It can happen any time if you are not focused, and the defeat against Ireland can never be forgotten. So we need to be at our best and give nothing to our rivals," said Afridi, who sat out that match due to a ban.
Not even Kenya's abject 10-wicket surrender to New Zealand in a Group A match in Chennai on Sunday, makes Afridi feel at ease.
"If they had a bad day then they can come hard on us. We will be geared up as our main aim is to win all our group matches," said Afridi of the first stage where Pakistan also face Sri Lanka, Australia, New Zealand, Zimbabwe and Canada.
The top four teams qualify for the quarter-finals from each of the two groups.
Pakistan opener Ahmed Shahzad and middle-order batsman Misbah-ul-Haq hit centuries in the first warm-up match against Bangladesh last week and senior batsman Younis Khan scored 80 in a lost cause against England.
Younis and Misbah will be the key in providing a solid base for hard-hitters Afridi, Umar Akmal and Abdul Razzaq, who can run riot in the final overs and in the batting powerplay.
Pakistan are likely to rest paceman Shoaib Akhtar in a bid to keep him fresh for the match against Sri Lanka on Saturday.
That would make way for left-arm paceman Junaid Khan to make his debut who grabbed three wickets against England.
Kenya captain Jimmy Kamande vowed to have a different approach against Pakistan, after his team was shot out for a paltry 69 against New Zealand.
"Next game, it'll be different opposition and a different approach from us. I would be happy as long as we improve each and every game," said Kamande, whose team reached the semifinal in the 2003 World Cup.
"We didn't express ourselves (in the first match). The young boys were nervous. The two young lads who opened (Seren Waters and Alex Obanda) were a bit nervous, but I hope things will change," said Kamande.
After a sell-out first match between hosts Sri Lanka and Canada at Mahinda Rajapakse stadium on Sunday, the Pakistan-Kenya clash has failed to attract the local fans, as hundreds of tickets were still available.
Follow Emirates 24|7 on Google News.