The Master seeks World Cup redemption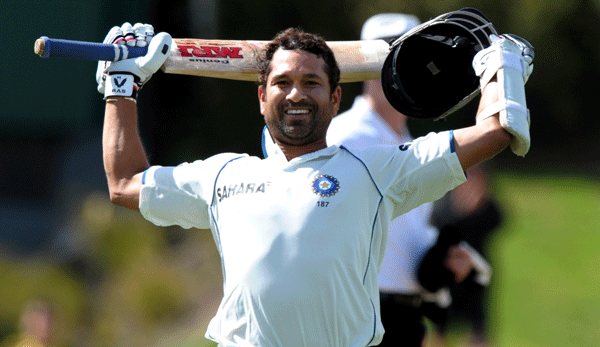 A billion hearts will beat for Sachin Tendulkar as he attempts to win the World Cup for India in his record-equalling sixth appearance in cricket's showpiece event.
Tendulkar will not be short of support in what is expected to be his last World Cup - even his team-mates want to win it for him.
The most celebrated cricketer of the modern era has amassed 32,331 international runs and hit 97 centuries, making him the most prolific run-getter in both Test and one-day cricket.
But a World Cup title has eluded the master batsman, an anomaly he hopes to correct when he equals Pakistani great Javed Miandad's record of six tournament appearances.
Tendulkar, who turns 38 in April and holds all coveted batting records except Don Bradman's astounding average of 99.94, has often expressed his disappointment at missing out on a World Cup triumph.
He was just 10 when Kapil Dev held aloft the trophy at Lord's in 1983, the only time India has won the tournament, but he remembers that moment clearly.
"No Indian can forget that and, like any player, I too have dreamt of winning the World Cup for the country," Tendulkar said. "By God's grace, we will achieve what we want to achieve."
During his five previous World Cups since 1992, India reached the semifinal at home in 1996 and finished runners-up in 2003 in South Africa.
Both times Tendulkar ended as the tournament's highest scorer, making 523 runs at average of 87.16 in 1996 and 673 runs at 61.18 in 2003.
He has scored more World Cup runs (1,796) than any batsman in history, but not even his individual brilliance could win the ultimate prize in a team sport like cricket.
Tendulkar admitted his worst moment came in the World Cup in the Caribbean in 2007 when India were knocked out in the first round after being stunned by minnows Bangladesh and Sri Lanka.
"It is always painful when the team loses, but our early exit in 2007 was particularly disappointing," he said, blaming a lop-sided batting order for the loss to Bangladesh.
Tendulkar, who has played his best one-day cricket as an opener, was asked to bat at number four by the then coach, Greg Chappell, behind Sourav Ganguly, Virender Sehwag and tyro Robin Uthappa.
Tendulkar has enjoyed a great run under current coach Gary Kirsten and captain Mahendra Singh Dhoni, smashing an age-defying 200 not out last year, the only double-century in the history of one-day internationals.
India, second behind Australia in one-day rankings, get a chance to end a 28-year drought by winning the final on Tendulkar's home turf at the Wankhede stadium in Mumbai on April 2.
No country has won the World Cup on home soil, but India team-mates like Gautam Gambhir and Harbhajan Singh say they were determined to clinch the trophy for the little champion.
"I sincerely wish this would not be Sachin's last World Cup and he would play one more," said left-hander Gambhir. "I speak for all team-mates when I say we would like to win it for him."
Star spinner Harbhajan added: "Winning the World Cup will not only fulfill the dream of millions, but it will also be Team India's biggest gift to our hero Sachin Tendulkar."
Follow Emirates 24|7 on Google News.