Waqar wants World Cup jinx broken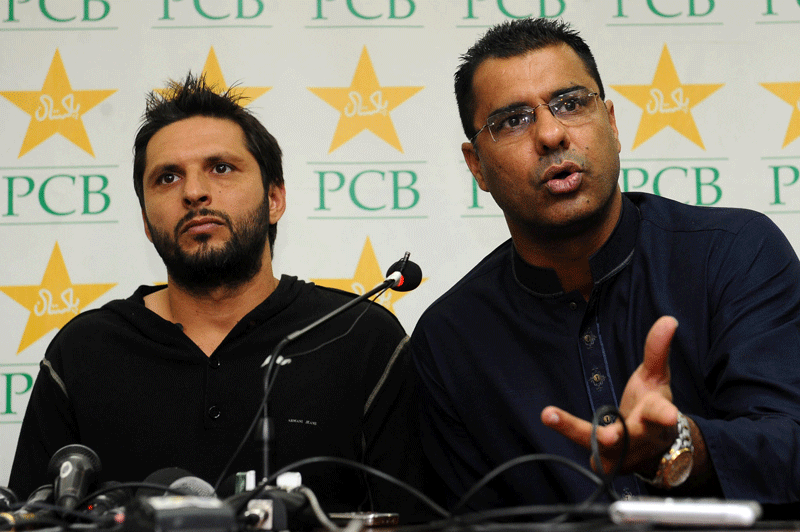 As a player, Waqar Younis had nothing but bad memories of the World Cup.
Now as a coach, he has the challenge of turning around Pakistan's talented yet unpredictable team.
"Well, it's true that the World Cup hasn't been too kind to me, but that is motivation and challenge enough to fight on and take another chance as coach of a talented team which can win the tournament," Waqar said.
Waqar, now 39, was regarded as one of the most potent fast bowlers in his prime, producing wicket-taking deliveries on any surface, the most notable being his toe-crushing yorker.
Together with compatriot Wasim Akram, one of the best left-arm pacemen ever to have played cricket, Waqar formed a destructive new-ball pairing, fondly remembered as "two Ws", wrecking the best of batting line-ups on their day.
Waqar was considered Pakistan's main weapon in the 1992 World Cup in Australia, but a week before the event started he had to return home in tears without playing a match due to injury.
"It was a nightmare to return with an injury," remembers Waqar.
"Yes, it does hurt sometimes that I wasn't part of it but I still remember going to Lahore airport to receive the winning team when they returned.
"It will always stay with me, the moment they arrived and I always cherish that great triumph of Pakistan.
"I had watched the World Cup at home in Lahore. Every single game was fun to watch and as we got into the later stages of the tournament it got very thrilling and that was the time when I missed it the most."
But soon after Pakistan's win in the World Cup, Waqar recovered from injury and along with Wasim wreaked havoc in England, leading Pakistan to a 2-1 win in a Test series marred by allegations of ball-tampering.
By 1996, Waqar had matured into a world class bowler, but his World Cup jinx continued.
Pakistan, again title favourites in the event jointly hosted by them, India and Sri Lanka, crashed out in the quarter-finals.
Up against their arch-rivals India in front of a vociferous Bangalore crowd, Waqar ran into free-stroking Indian batsman Ajay Jadeja who clobbered him for 22 runs in one of the death overs.
Pakistan lost by 39 runs.
"That was one of those days when I couldn't control the aggression, but we could still have won the game had the batsmen capitalised on a good start," recalled Waqar.
By 1999, he and Wasim developed some serious differences.
Wasim preferred express paceman Shoaib Akhtar over Waqar, who managed to play just one match in the event held in England - that too in an embarrassing defeat to minnows Bangladesh.
"Again, it was another forgettable event," said Waqar.
"I could play only one match, against Bangladesh, and we lost that match," said Waqar of the defeat, which was investigated for allegations of fixing.
In 2001, the roll of the dice fell in Waqar's favour as he was appointed captain after his career was revived through notable performances ahead of the 2003 World Cup held in South Africa.
But things didn't change as Pakistan crashed out in the first round after defeats against Australia, India and England.
"It was unfortunate that we couldn't manage to win any of these World Cups because we had the best teams from 1996-2003," said Waqar, who retired in 2004 after claiming 373 Test and 416 one-day wickets.
During the 2007 World Cup, where Pakistan again crashed out in the first round, Waqar was busy changing his base from Lahore to Sydney and took over as coach in 2010.
This time around, Waqar is very confident the World Cup jinx will be broken.
"In 1992, nobody thought that Pakistan would win the World Cup. This time the event is in our part of the world and we stand a very good chance.
"I would love to deliver the best I can as a coach this time and have ever-lasting memories of the event."
Follow Emirates 24|7 on Google News.