You talkin' to me? Sledgers have their say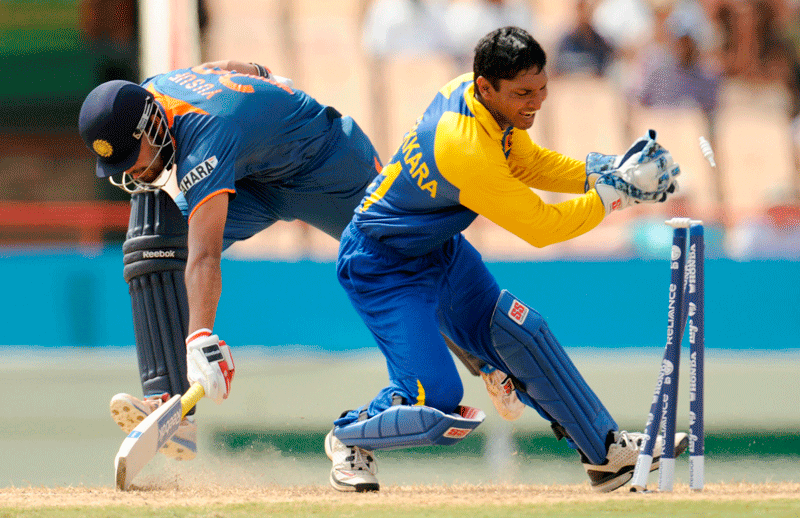 He's a trained lawyer, so Kumar Sangakkara should know when it's good to talk.
But put him as well as the cream of the world's wicket-keepers and close-catching fielders out on the pitch, the mind games begin.
Like it or not, sledging in cricket has become an art form all of its own; some jibes are witty, others obscure, some pornographic but with so much at stake in the World Cup, captains and players will use any means to get an edge.
And Sri Lanka's colourful Sangakkara is sharper than most.
On the eve of the last World Cup in the Caribbean, he became a star of the Internet thanks to his taunting of former South Africa's Shaun Pollock at the 2003 edition when the hosts were under pressure fighting for their lives.
"How's the pressure, skipper?" a smiling Sangakkara asked Pollock in comments picked up by the stump microphones as the South Africa skipper took guard.
"He's going to let his whole country down, lads. Oh, the weight of expectations. Forty-two million people depending on Shaun."
Although Pollock made 25 before being run out, Sri Lanka won the match on the Duckworth/Lewis method and a desperate Pollock was seen scratching his head in bemusement in the pavilion after his side had misunderstood the rain rules.
They were eliminated from the tournament and Pollock quit as skipper.
"There have been different experiences in the middle with a bit of a chat-up but nothing or special comes to mind," said an unconvincing Sangakkara later.
"My honest opinion about sledging is that it doesn't belong on the cricket field. It is not the way the game should be played. But there are instances when you are faced with verbal challenges, there are times when you have to put your foot down.
"When the challenge is taken up, things can get ugly. But I would never practise that or use it as a tactic."
According to an online dictionary, sledging means "to bait (an opponent, especially a batsman in cricket) in order to upset his concentration; an insult aimed at another player during a game of cricket."
For former Australian captain Steve Waugh, it was "mental disintegration".
Sledging has always been part of the game; the difference now is that highly-sensitive microphones pick up every word.
Despite the Australians' reputation for being the kings of the sledgers, spin legend Shane Warne pleaded: 'not guilty'. He reckons it's the Kiwis.
"Whether they just reserve it for us because of the geographical rivalry I don't know, but sometimes it feels like being in an aviary full of twittering birds," he said in his autobiography.
He also singled out former South Africa all-rounder Brian McMillan, who had once warned Warne that he intended to take him fishing and "use you as bait for the sharks".
Warne said sledging from England fielders helped fire him up to make a rapid 71 in his last Test in Sydney in 2007.
"A few of them decided to have a bit of a say," said Warne. "That's fair enough. No drama. It just made me concentrate a bit more. Some days it works, some days it doesn't."
Ian Maynard, an English college sports psychology professor, believes sledging can be countered.
"Sticks and stones may break my bones, but saying that you have made love to my wife is only your way off putting me off so I am going to smile at you, acknowledge it and carry on doing what I am really good at."
Maynard offered advice on how to combat it.
"Breathe, talk, play. A couple of breaths to take the focus away from the thought, a key phrase to take you back to the here and now and then get on with it."
Follow Emirates 24|7 on Google News.