iPhone 6 release rumours: Screen you can write on with a pencil… features to kill Galaxy S4?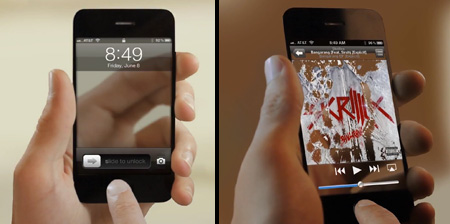 Rumours about the Apple iPhone 5S and the iPhone 6, as expected, are heating up prior to the launch of the next iPhone iteration in July or thereabouts.
And if these rumours are to be believed – and why wouldn't we – it's going to be a killer phone that Apple will unleash at competition (read: Samsung Galaxy S4).
And these aren't mere rumours – they are, how should we put it, informed guesses, as they say. In an interview with CNBC earlier this week, Katy Huberty of Morgan Stanley said that she expects the next-generation iPhone to spark a big comeback for Apple – especially now that arch-rival Samsung has laid its smart cards on the table with the recent launch of the Galaxy S4.
"You saw Samsung Galaxy S4 come out last week, that shows you the innovation cards are up for grabs," Huberty said. "What is lacking in that product [the S4] is a killer feature. We think that's where Apple will surprise this year."
"This [iPhone] 5S cycle this year will be about a killer feature that drives consumers increasingly to the platform, and that increases the value of those 500 million [iOS] accounts," she added.
'How' is the big question. Be sure, though – behind closed workshop doors in Apple's Cupertino headquarters, heads of various departments are huddled together to bring to you the ultimate handy candy.
Yes, yes, the iWatch is coming too, but we now know that Samsung will use all its might to hand over its own Samsung Watch before that.
In that case, Apple will – should – do what Apple does best: move the goalpost away to a whole new (better-lit) field and let competition pack their kits and come looking for the new playground.
With the planned features of the iPhone 6, that's exactly what Apple intends to do.
Samsung might have won a battle in this smartphone war by launching a features-loaded Galaxy S4 that's cheaper than the iPhone 5, but Apple's Generals are perhaps preparing to drop the N-bomb-equivalent in the iPhone 6, it seems.
Here's what Apple is supposed to be planning (shhhh…):
A Transparent iPhone
Starting with the oldest of the rumours – the see-through exteriors, or a transparent iPhone – this one is as breath-taking as they come (and might not come at all). The first such rumours began in earnest in late 2009/early 2010, when a see-through iPhone was touted among the 10 Futuristic Cell Phone Concepts by Toxel.com
Lately, though, rumours about a transparent iPhone last surfaced around the launch of the iPhone 5, and were among the top of the iPhone 5 wish-list of Emirates 24|7 readers last year.
In fact, a beautiful commercial filmed by Dakota Adney showcased the Apple iPhone with transparent screen and laser projection keyboard.
Of course we – and undoubtedly numerous others – were disappointed to not see one, but then, it was a long shot then. Even now, the idea remains just a concept - there are more elements to a smartphone (or any phone, for that matter) than just the display glass screen.
So, even if the display screen is made transparent, there is hardware (battery, motherboard, etc.) that makes this one rumour a practical impossibility. If Apple (or anyone else) comes out with an all-transparent phone hardware, then we'll be closer to achieving this fantasy, we think. But we'd really like Apple to surprise us here.
Intel inside Apple
The next on the list brings the Apple-Samsung rivalry into the picture. Recent moves by Intel to open up its fabrication plants to third-parties have fuelled rumours that Apple will finally ditch Samsung and look to Intel to power the iPhone 6.
The contract between Apple and Samsung expires in 2014, and it will make sense for Apple to part ways with its bitter rival. It is likely that the iPhone 6 will sport an A7 processor, which should go into production in 2014.
This would give the Cupertino-based giant enough time to switch manufacturers from Samsung to Intel. And the move may not be limited to iPhones alone – the iPads will see the switch too.
To top it all, Intel doesn't have any (stated) plans of launching a phone, smart or otherwise, and that should relieve Apple from any worry that its plans to power up its devices may officially reach competition much before it wants them to.
3D video conferencing and calls
Okay, hold your breath for what we are about to tell you (unless you know it already) – Apple has, officially, been granted patent this Tuesday (March 19, 2013) for its invention relating to synchronised, interactive augmented reality displays for multifunctional devices, or iDevices.
According to Patenetly Apple, the granted patent is about a device that can receive live video of a real-world, physical environment on a touch sensitive surface. One or more objects can be identified in the live video.
An information layer can be generated related to the objects. In some implementations, the information layer can include annotations made by a user through the touch sensitive surface. The information layer and live video can be combined in a display of the device. Data can be received from one or more onboard sensors indicating that the device is in motion.
The sensor data can be used to synchronise the live video and the information layer as the perspective of video camera view changes due to the motion. The live video and information layer can be shared with other devices over a communication link.
In a nutshell, the three paragraphs above mean that Apple has invented – and patented – a method that can make live 3D and video conferencing calls a possibility. Its applications could be numerous – distance learning, medical-related uses, sales pitches, and many more, undoubtedly.
For the record, Apple bagged 48 patents this Tuesday, including an iPhone cover plate crediting the late and great Steve Jobs – so expect Apple to finally pay tribute to the legend with the next iPhone.
Sharp sensitive touchscreen
Another killer feature that the next iPhone might sport is the ultra-sensitive touchscreen from Sharp, which will allow users to scribble notes on the screen with an ordinary pencil or pen – so no need for a specialist stylus.
The new display will, evidently, scale from 5" screens to 60" HDTVs, giving it a wide range of uses. The new screen technology is also considerably smaller – yes, that means that the iPhone Mini could sport it too.
Adding more colours and sizes
We've been here before. That the next iPhone may be multi-coloured was, intriguingly, speculated by an analyst named White. "Apple is preparing a new iPhone in multiple colours and sizes," said Topeka Capital analyst Brian White.
According to him, the next iPhone is going to come out in the May-June time frame, and he suggested that Apple will do to the iPhone what it did to the iPod Touch – make it colourful.
In addition, there have been reports by industry experts predicting that Apple will produce three different iPhone 6 models – the iPhone 6, iPhone 6 Mini and an iPhone 6 XL.
Obviously, there will be more to share as things progress, and we will keep you updated when we know more.
Follow Emirates 24|7 on Google News.