Arab kills wife in RAK and flees to Abu Dhabi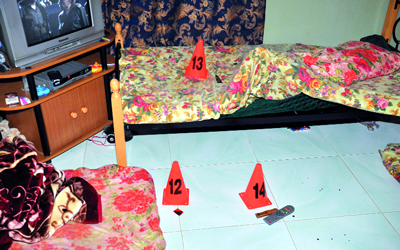 An Arab man murdered his wife by stabbing her many times with a knife and an axe before fleeing to Abu Dhabi, where police from both emirates have conducted a massive manhunt to catch the killer.

Their 21-year-old son and two daughters, 16 and 13, were in a state of shock after their father waited for them to leave the house in Suheila neighbourhood in the northern city on Sunday to perpetrate the murder, described by police as "heinous."

Police said they found the 38-year-old Arab wife dead in a pool of blood at her house while her shocked son was waiting outside and two daughters were still at school.

The husband, 47, used a large knife and an axe to end the life of his wife before fleeing to Abu Dhabi. A friend told police he was called by the husband after the murder to tell him about the crime and ask him to look after his children.

"We we surprised by the way the wife was killed…it was a heinous crime," RAK police commander Brigadier Abdullah Al Hadidi said, quoted by Emirat Alyoum daily.

He said the victim had stab wounds all over her body and the bedroom was in a mess, indicating there had been a fight before the crime.

"We have published photographs of the husband and coordinated with police in Abu Dhabi and other emirates…a team of our police also headed for Abu Dhabi to coordinate action to catch him," he said.
ALSO READ:

Motorists who throw cigarette butts out of car face Dh500 fine



Man killed in road crash buried with his car



Emirati man found killed at home with stab wound
Follow Emirates 24|7 on Google News.