Gang of robbers arrested in RAK after Hollywood-style chase at 200kmph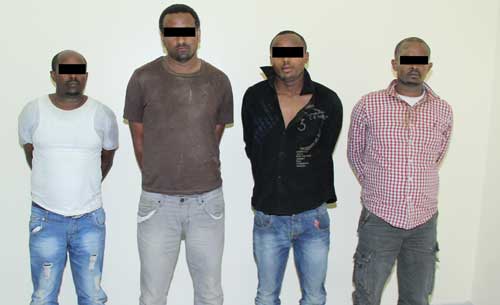 The Ras Al Khaimah has arrested a gang of Africans for trying to rob a customer of a bank in the emirate on Wednesday morning.

The gang consisted of four men and a woman who wore a wig.

The gang pounced on a customer who had gone to a bank branch to deposit money and tried snatch the money from him. The customer screamed for help as the money fell on the floor of the building.

The branch manager of the bank and staffers came out and caught a member of the gang after much resistance. The others fled, throwing large stones at people chasing them. They got into a car and sped off at high speed.

Meanwhile, the bank manager informed the police which soon reached the site of the crime.

Ibrahim Rashid Al Shehhi, a retiree from the Army, and Mohammed Saleh Mahmoud joined the chase for the gang who were driving at over 200kmph.

When the tyre of the gang's car burst, the male gangsters got out of the car and ran into the desert. The woman gangster, who tried to flee with the car, was arrested by the two chasers.

The police then sent foot and vehicle patrols to search for the other gangsters in the desert. Air support was also arranged.

Two members of the gang were found hiding in a bush the desert. Two others were also found hiding among shrubs in the sand.

Major General Sheikh Talib bin Saqr Al Qasimi, chief of police, congratulated Ibrahim Rashid Al Shehhi and Mohammed Saleh Mahmoud for their courage and help in arresting the criminals.
MUST READ:
Follow Emirates 24|7 on Google News.