Aishwarya Rai, Shilpa Shetty ready to storm Bollywood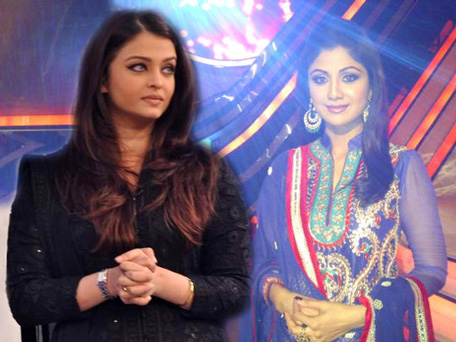 There is a cliché in Bollywood that an actress has a shelf life in the industry. Once married with kids there is no going back to the silver screen. But this doesn't seem to be true for at least one actress - Aishwarya Rai Bachchan.

Actresses Aishwarya Rai and Shilpa Shetty Kundra embraced motherhood together with utmost grace. At the peak of their popularity they gave up almost everything for their new born babies.
The two glamorous ladies gained weight post-pregnancy and faced the wrath of the fashion connoisseurs for not getting back in shape.

They basically didn't follow the more popular path of getting back to size zero immediately after delivery like their Western and Indian colleagues.


They took their sweet time; attended events, flashed their pearly whites and displayed abundance confidence for the person they are and not just their looks.

Both Aishwarya and Shilpa acknowledged their weight and dressed accordingly; wearing full length dresses, covering their arms and trying out different hair-styles to camouflage the extra weight.

After a year, both the ladies look all set to take back their place in the limelight. They have lost oodles of weight and are beaming at the camera.
Shilpa's transformation and presence as a glamour quotient is easily visible in dance reality show 'Nach Baliye 5'.
Slowly and steadily we can see a shift in her wardrobe. From anarkalis she moved to jumpsuits and pants and then to shorter dresses.
She has been careful enough not to shock her audience.
Aishwarya's recent appearance in an Indian news channel for a social campaign witnessed her inching towards what she was before pregnancy.

Aishwarya attended the NDTV Support My School campaign dressed in a black Abu-Sandeep churidar. It was refreshing to see her wear something other than those long anakalis (Indian dress) and tent like gowns and the actress did look slimmer in the nicely fitted dress.
Aishwarya also delighted the audience with an impromptu dance with Shweta Tiwari on her popular number 'Kajra re'. With no prior practice we must say she matched the steps perfectly.
At the threshold of 40, both Ash and Shilpa can give the younger generation a run for their money. We hope to see these two beautiful ladies on the big screen soon.
(Shilpa pictures: Twitter; Aishwarya: AFP/Sanskriti/Supplied)
ALSO READ:
Did Kareena Kapoor gain weight after marriage with Saif?


Akshay Kumar: It will soon be 300-crore club in Bollywood



Akshay reunites with ex Shilpa Shetty...
Sherlyn Chopra to be replaced by Eva Longoria, Mila Kunis?
Follow Emirates 24|7 on Google News.