Akshay Kumar: 300cr Bollywood club coming soon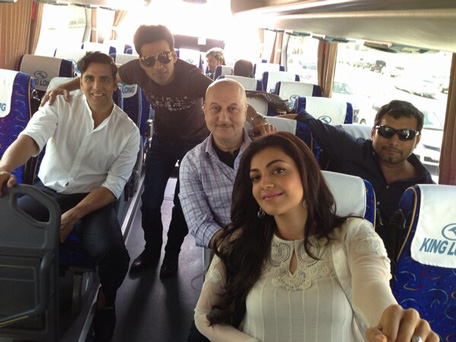 As a journalist, it is always refreshing to see celebs sans the ego hassles that come attached with an umbilical cord for the star-studded elite.
However, the vista that lay before this reporter was a unique one indeed.
Hustled into Akshay Kumar's private suite at the Grand Hyatt, it was a sea of stars that lay in wait for a special tête-à-tête on occasion of the world premiere of 'Special 26'.
Meanwhile, the actor in question was too busy enjoying himself massaging co-star Anupam Kher's baldpate to pay us any heed.
A few minutes later, the camaraderie made way for professionalism, as Kumar immediately went into his spiel of the drama's USP, calling it an out and out "commercial film, which is not just here to impress but to make money too."
He said: "I have seen director Neeraj Pandey's 'A Wednesday' a couple of times and his sense of story simply bowled me over. How could I not say yes to 'Special 26'?"
The mutual admiration society continued with Kher, who appeared more visibly relaxed post the impromptu massage, adding: "I have worked with Neeraj on his first film, and was always confident of his work. But when I read this film's script, I was so impressed that only an idiot would have turned down such an offer. And I'm no idiot for sure."
In fact, the actor, who has been a two-time recipient of India's highest film honour, the National Award for Best Acting, said that even after 450 films to his credit spanning 30 years, he still comes to the film sets with a fresh perspective.
"I have seen many first launches throughout my career, but when I come to the sets, it is not a veteran but a newcomer himself who is ready to create within the framework of the script," he said.
Without revealing more than titbits for the heist drama, for Pandey's second venture into cinematic experimentation, the director chose a notorious real-life con job that remains one of India's most daring unsolved crimes till date.
Back in March 1987, a conman posing as a Central Bureau of Intelligence officer recruited a team of 26 innocents through a newspaper advertisement and raided a popular jewellery store in Mumbai's Opera House district under the guise of an official investigation into trading fraud.
The conman, who went by the name of Mon Singh, walked out in broad daylight with Rs3.5 million worth of jewellery and cash and has never been traced since.
However, Pandey confessed that he has taken cinematic liberties with the real-life tale to transform it into reel-life cinema.
Kumar added: "We have not made a documentary here, but a commercial film. I will not back anything that does not commercially entertain. We are not here to make losses."
When quizzed, he added: "Everyone in cinema is chasing the numbers game. It is the all important decider of whether you will make money in the end.
"But times are changing. Today, everyone is talking about the Rs1bn club; but with a 2bn population being catered to with our cinema, in two years, it will be all about the Rs3bn club. That's how commercial it can get."
Yet, for actors such as Manoj Bajpai, who has remained selective in his choice of films, takes a middle ground, saying: "Of course, numbers matter, but as does the script. We are actors, so we can adapt to any form of acting genre, but the exuberance and excitement only doubles when the film is a winning one creatively and commercially."
The commercial element is one that has given rise to the only female character in 'Special 26', with Kajal Aggrawal roped in for a romantic pairing with Kumar.
Kher jumped in as a voice of reason to add: "This is viable across an industry. When you invest millions of rupees in a project, naturally you are looking for returns. Why should the rules be any different for cinema as opposed to one that a steel tycoon lives by?"
Will this film turn into a money spinning enterprise will only come into play over the next three days, as 'Special 26' opens in UAE cinemas Thursday, followed by a global release on February 8.
But with the cinematic brilliance of 'A Wednesday', the early reviews of the film are already calling this heist a roaring success.
ALSO READ:
'Special 26' review: Akshay Kumar does the unexpected, takes audience on fun ride
Did Kareena Kapoor gain weight after marriage with Saif?



Akshay reunites with ex Shilpa Shetty...
Sherlyn Chopra to be replaced by Eva Longoria, Mila Kunis?
Follow Emirates 24|7 on Google News.