Grammy Awards: Taylor Swift, Rihanna, Beyonce early winners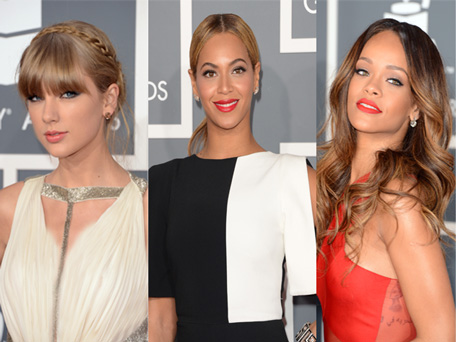 Taylor Swift, Beyonce, Rihanna, Jay-Z and Kanye West were early Grammy winners on Sunday as music's biggest night got under way, announcing winners in more than 60 categories before the televised show.
Click to see gallery of Grammy Awards 2013: Winners revealed
The top categories are dominated this year by male artists, with British folk band Mumford & Sons, indie-pop trio FUN. and R&B singer Frank Ocean going into the show with six nominations each, including Album of the Year.
The 55th Grammy Awards will hand out their gramophone-shaped trophies in more than 80 categories, but only a handful of winners are announced during the three-hour live telecast airing on CBS.
Country-pop singer Taylor Swift won a Grammy for her collaboration with T-Bone Burnett and The Civil Wars on the song "Safe and Sound" from "The Hunger Games" movie soundtrack.
"I really want to thank Suzanne Collins for writing 'The Hunger Games' and to Jennifer Lawrence for portraying a character that was so fun to write a perspective from," Swift said in her acceptance speech.
Jay-Z and Kanye West picked up two awards - Best Rap Performance and Best Rap Song for their collaboration "N****s in Paris." Jay-Z's wife, Beyonce, won Best Traditional R&B Performance for "Love on Top."
DJ Skrillex, who won three Grammy awards last year, picked up three more this year, including Best Dance/Electronica Album for "Bangarang."
"We support music and a forward-thinking attitude," Skrillex said on stage.
Rihanna and British DJ Calvin Harris picked up the Best Short Form Music Video award for "We Found Love." The electronic dance track was one of the biggest chart-sellers of 2012, and the dark video featured drug abuse and violence.
Esperanza Spalding, who famously beat Justin Bieber to win the Best New Artist Grammy in 2011, picked up two awards including Best Jazz Vocal Album for "Radio Music Society."
Brian Wilson, 70, of The Beach Boys picked up a Grammy for Best Historical Album for "The Smile Sessions."
Backstage, Wilson said he felt "wonderful, and honored" to receive the accolade. He said he was heading back to the studio next week to work on new material. Asked about a Beach Boys reunion, he said: "I doubt it. I don't think so."
The Grammys encompass all spectrums of the music and sound industry, including spoken word albums.
Former U.S. President Bill Clinton missed out on a Grammy award for Best Spoken Word Album for his book "Back to Work: Why We Need Smart Government For a Strong Economy." He was beaten by Janis Ian for her spoken word autobiography "Society's Child."
"To say this is a stunning upset is an understatement. I keep thinking there's a punchline in here somewhere," Ian said in her acceptance speech.

RISING STARS AND VETERANS TO TAKE GRAMMY STAGE
Dozens of performers including U.S. rockers The Black Keys, who received five nominations, and former White Stripes frontman Jack White, who has three nominations, will grace the Grammy stage on Sunday.
After paying tribute to electronic dance music last year, the Grammys are highlighting country music this year.
On Sunday, country will be represented by nominees Dierks Bentley and Miranda Lambert, Carrie Underwood and best new artist contender Hunter Hayes. Country music veterans Tim McGraw and Faith Hill will present awards.
The Grammys have a reputation for pairing up old-timers and newcomers, and this year will see some interesting collaborations.
Mumford & Sons will perform alongside Zac Brown, Elton John, Mavis Staples and Alabama Shakes singer Brittany Howard in a tribute to blues-rock musician Levon Helm of The Band, who died last April of throat cancer.
Mumford & Sons won mainstream attention in the United States after performing at the 2011 Grammys alongside the Avett Brothers and Bob Dylan. Their sophomore album "Babel" became one of 2012's best-selling albums in the United States.
The band, who are up for six Grammy awards this year, missed out on the Best Americana Album, which went to veteran singer and guitarist Bonnie Raitt for "Slipstream."
R&B artist Bruno Mars and Rihanna will team up with Sting, while John and British rising star Ed Sheeran, 21, are set to perform a duet.
Justin Timberlake will make his long-awaited return to the musical spotlight in his first televised performance since he released "Suit & Tie" in January, his first new song in five years.
Timberlake, whose album "The 20/20 Experience" will be released on March 19, will also be performing a show in Hollywood immediately after his turn on the Grammy stage.
Swift, Alicia Keys and new artist nominees The Lumineers, an indie-folk band from Colorado, are also scheduled to perform.
Performers have been warned by the CBS network, which airs the Grammy Awards, to keep their buttocks, nipples and genitals covered up, in a "wardrobe advisory" aimed at avoiding indecency complaints from viewers and federal authorities.
MUST READ:
Kareena Kapoor has no Valentine plans with Saif Ali Khan
It's time to take care of Salman Khan's health
Bafta: Affleck's Argo takes home Best Film, Best Director award
Follow Emirates 24|7 on Google News.