No cover-up for Lady Gaga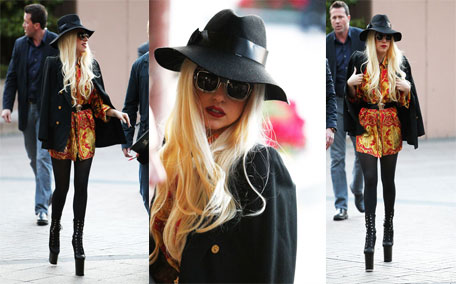 Lady Gaga posted pictures of herself in her birthday suit, just for her Twitter fans the 'Little Monsters'.
She recently caused a stir when she unveiled her new perfume ad, starring herself, naked, with only 'tiny men' crawling over her to protect her modesty.
But it appears Lady Gaga hasn't had enough of baring her flesh.
The 26-year-old tweets a snap of herself fully naked, sitting in an armchair, hugging her legs to her chest.
In the picture, a pale and nude Gaga, looks rather tired, with lips painted red and her blonde tresses fall on her shoulders.
This is potentially the most skin Gaga has ever shown in public.
But she hardly wears anything anyway, not that she tries to hide much.
Her nude picture revealed body parts one would prefer not to see. This is possibly the reason the image was taken off Twitter.
If anyone dares to look too closely at the nude picture, Gaga appears to be wearing a deceptively flesh-coloured thong.
Maybe by displaying her nude image Gaga wanted to tell her fans that she was Born This Way!
MUST READ:
Pattinson to talk to Rupert about Kristen
David and Victoria Beckham trying for fifth child
Salman Khan keeps Katrina away from Aamir
Follow Emirates 24|7 on Google News.