Battle of the gowns: Madhuri versus Priyanka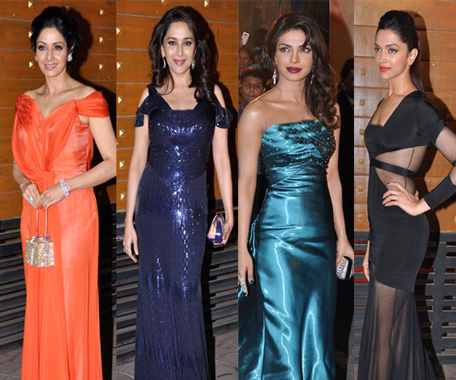 The Filmfare Awards red carpet is probably the biggest gala night of Bollywood. It is also regarded as the Oscars of the Hindi film industry by many.
No wonder the industry folks - actors and actresses - plan their evening attire months in advance. After all, the fashion high and faux pas are discussed for days after the event.
Critics and fans follow their favourite stars minutely and anything lacking in their choice of dress and make-up is often highlighted a thousand times over. In some cases, actresses caught putting a wrong step on the red carpet fashion, have also been reduced to tears by their own peers. Vidya Balan is a case in point.
Let's find out who scored a fashion high and who desperately needs a style makeover.
Critics' verdict
The Chopra sisters - Priyanka and Parineeti - along with Vidya Balan and Madhuri Dixit-Nene were the main victims of fashion faux pas.
The likes of Sridevi, Chitrangada Singh, Urmila Matondkar and Alia Bhatt ruled the 'average Jane' category.
It is probably the Bollywood men who took the fashion cake, as they all looked dapper in their tuxedos and evening jackets.
Sridevi and Madhuri
It was interesting to watch the 40+ actresses such as Sridevi and Madhuri walk the red carpet with their husbands in cleavage-showing revealing gowns. Those who are loyal Filmfare Awards followers would recall that the same heroines in their heydays wore nothing but bright and dazzling Kanjeevarams with heavy, intricate gold jewellery.
Both Sridevi and Madhuri have come a long way in shedding the heavy weight of Kanjeevarams and temple jewellery.
While Sridevi looked passable in her Alberta Ferretti orange and gold gown with plunging neckline, Madhuri could surely have opted for some other gown than the Alberto Makali blue gown, which looked more like a prom-reject project.
Deepika Padukone
Deepika Padukone stole the show with her minimalistic look and the killer designer-couture, which she carried off with aplomb. This is quite likely her best award show appearance so far.
Ms Padukone has the right attitude, looks and the figure to pull the back dress off, even though it did show off quite a bit of her skin at an awards show - by Bollywood standards. She wore a Prabal Gurung dress.
Vidya Balan returns as the queen of fashion faux-pas
We understand that you have your wedding trousseau to show off. But, surely you could have done better than colour coordinate your sari with the 'black lady with the golden base' (special edition). The kanjeevaram worn by Vidya did nothing for her, despite her 1,000-watt smile.
Vidya, please revert to the traditional Sabyasachi sarees (that she wore before her wedding) for the sake of your die-hard fans.
Botox ladies: Urmila and Raveena?
The actresses with the oomph factor - Urmila Matondkar and Raveen Tandon - seem to have lost the plot. Raveena's pouting lips looked more plump than usual and she seems to have gone through a bad botox job as well. While Urmila's skin seemed to stretched to be normal.
A kind request to both the ravishing Raveena and Urmila: Let your face age gracefully and nautrally. Your fans of yesteryears don't want you to compete with today's teenagers.
The Chopra sisters
Both Priyanka and Parineeti need to poach Deepika's stylist and make-up artist. The Chopras' dressing style leaves a lot to be desired. Priyanka wore a Armani Privé dress.
Rekha: Bollywood diva Rekha arrived in ther trademark gold Kanjeevaram and heavy jewellery. She has of late, started using vermilion (sindoor) on her forehead. For the uninitiated, it is the mark of a married woman in India. Her fans wonder if it is just a style statement, or are they missing something important. Nevertheless, Rekha is one actress who simply gets better with age.
Yamini Gautam: The lady's smile makes up for the dress that failed to impress anyone.
Aliya Bhatt looks passable in what looks like a trademark Manish Malhotra ensemble. However, one advice for Alia - she should dress according to her age.
Chitrangada Singh: She is one actress who oozes the oomph factor. However, she needs a hair stylist desperately. Braiding her glowing locks into a french plait, before walking the red carpet is nothing but a crime. We expected better from you Chitrangada.
Ileana D'Cruz: Her dress is a little difficult to understand. Is it a gown (with a plunging neckline) or is it a 2 piece dress? Could you please clear the confusion? Anyway, her mysterious partner for the evening created a far greater stir among those assembled there than her dress.
(All pictures courtesy: Sanskriti Media and Entertainment)
RELATED STORIES
Dressed for success: Winners on Filmfare red carpet
Filmfare Awards complete list... Vidya's 'Kahaani', Ranbir's 'Barfi!' rule
Follow Emirates 24|7 on Google News.