Bumper-to-bumper in Al Nahda: Paying Dubai rent, yet stuck in 'Sharjah' traffic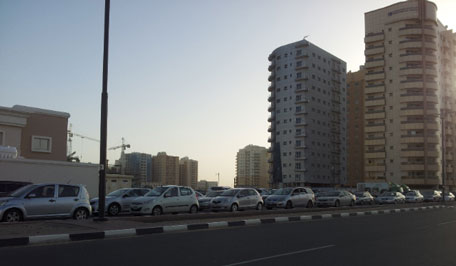 Many Sharjah residents, who crossed the border and shifted homes to Al Nahda, Dubai, in a bid to avoid the traffic snarls in the emirate aren't a happy lot.
The reason: horrific traffic blocks that continue to haunt them on this side of the border.
"We decided to shift from Sharjah to Al Nahda, Dubai, to save on the daily travel time to work, but it has backfired," insists Sheeba, a resident.
She invariably spends the same time tackling traffic jams in Al Nahda, Dubai.
"We were willing to shell out the extra money only because we wanted to avoid the long drive to work."
The high-rises that line the Dubai side is very popular, and the area has become hugely populated.
There are numerous eateries that have also cropped up in the area.
"It is a good place to stay, but the traffic situation has just gone from bad to worse. Earlier it would take me less than 10 minutes to drive up to Airport tunnel from Zulekha hospital, but now it takes over 20 minutes," explains another resident Neeraj.
Being a border city, the Sharjah traffic does impact this area. "In the evening, you get caught in the Sharjah-bound traffic. For the same rent, it would be wiser to move to other areas like Al Barsha or Discovery Gardens," adds another resident.
Realty agents in the area, however, claim that area is still trending.
"There has been a 10-15 percent increase in rents in this area. We are seeing a big demand for Al Nahda," claims Mohammed, who has placed ads in Dubizzle.
Many residents, however, are regretting their move, and doing a rethink.
"If we had to be stuck in traffic jams, then we are better off moving back to Sharjah. At least that way we will save on the rent," reasons another Al Nahda resident.
"This is just a terrible mistake."
Rents in Al Nahda for 1 bed-apartment ranges between Dh34,000 and Dh55,000, and 2-bed apartment starts from Dh40,000 to Dh65,000.
For less than half the amount, you can get a 2-bed-apartment in Al Nahda, Sharjah.
ALSO READ:
Don't take the elevator alone at night: Abu Dhabi Police warning for female residents

Bling in Dubai: Spa b'day parties for little girls is the latest 'in' thing

UAE leasing firms find vehicles gone missing
Follow Emirates 24|7 on Google News.