Thousands of bicycles confiscated in Sharjah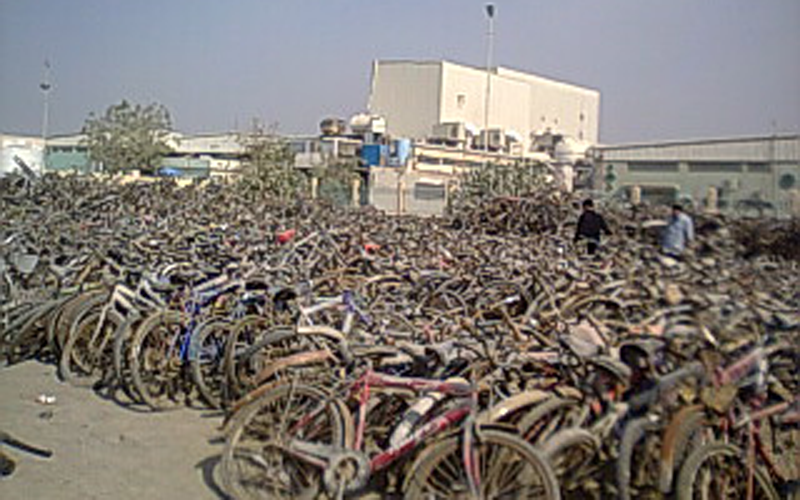 Thousands of bicycles have been confiscated in Sharjah as part of crackdown for using two-wheeler without safety guards.
According to Sharjah Municipality sources, at least 10,000 bicycles have been confiscated and dumped in Sharjah Scrap Yard in the industrial area.
Cyclists were allowed to come on the roads only after wearing helmets and other safety items; but those who were not wearing these items and meeting other safety requirements had their bicycles confiscated.
"Every day we are getting new stock here. At present, between 6,000 to 10,000 bicycles have been dumped here. All of them were confiscated from cyclists from different parts of Sharjah. There is no fine for using cycles, but the bicycle is confiscated and sent to the dump yard," said a source handling confiscated bicycles. Sharjah Municipality has banned use of bicycles for commuting and transporting waste papers and card boards.
Bicycles used on the roads by children have also been confiscated, but cyclists were allowed to use two-wheeler after fitting with required safety features like reflectors and helmet. Those cyclists who were found violating these rules had their bicycles confiscated. The cycle licence issuance has also been stopped by the Sharjah Police after a number of cyclists were involved in road accidents.
"I know there is a ban on using bicycles. But what to do, I cannot afford to hire a cab and public transport is not available in the industrial areas," said Khan, an Asian expatriate who rides bicycle in Sharjah Industrial Area 10. Many of the bicycles dumped in the scrap yard are in working condition.
ALSO READ:
Unknown web link targets Dubai Police



Sri Lankan maid jumps to death in International City
Follow Emirates 24|7 on Google News.