Mubarak stays, government resigns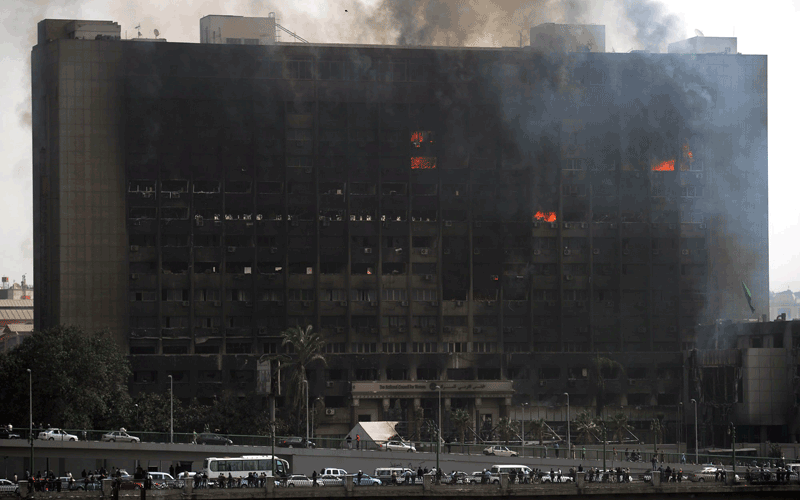 Looted stores, burnt out cars and the stench of blazing tyres filled the streets of Cairo early on Sunday as President Hosni Mubarak sought to bargain with angry crowds and security forces struggled to contain looters.
In five days of unprecedented protests that have rocked the Arab world, more than 100 people have been killed, investors and tourists have taken flight, Mubarak has offered a first glimpse of a plan to step down and 80 million long-suffering Egyptians are caught between hope for democratic reform and fear of chaos.
The United States and European powers were busy tearing up their Middle East policies, which have supported Mubarak at the head of the most populous Arab nation for 30 years, turning a blind eye to police brutality and corruption in return for a solid bulwark against first, communism, and now militants.
Fellow autocrats across the region were looking nervously at their histories, wondering whether the fall of Tunisia's veteran strongman two weeks ago had, like the fall of the Berlin Wall in 1989, set in train a domino effect.
As in Tunis, Egypt's exploding young population, most of then underemployed and frustrated by oppression at the hands of a corrupt and rapacious elite, were demanding a full clear-out of the old guard, not just a reshuffle of the governing class.
On Saturday, the 82-year-old Mubarak bowed to protesters and named a vice-president for the first time, a move seen as lining up Omar Suleiman, hitherto his chief of intelligence, as an eventual successor, at least for a transition.
Many also saw it as ending his son Gamal's long-surmised ambitions to take over.
Fearful of a descent into anarchy, some Egyptians were reassured by signs Mubarak may be readying a handover of power within the military establishment that has run the biggest Arab state since British-backed King Farouk fled in 1952.
But those on the streets of Cairo, a teeming megalopolis of 15 million that is the biggest city in the Middle East, have scented weakness and remain impatient for Mubarak to go now.
Mohammed Essawy, a 26-year-old graduate student, said of the appointments: "This is not acceptable. Mubarak must step down. Public unrest will not stop until this is achieved."
Saad Mohammed, 45, a welder said: "We are not demanding a change of cabinet. We want them all to leave -- Mubarak before anyone else."
While clearly anxious to avoid an anarchic collapse that might destabilise a region that is vital to world oil supplies, Mubarak's allies in Western governments appear to share a sense that what has happened so far does not go far enough.
In Washington, State Department spokesman P.J. Crowley said: "The Egyptian government can't reshuffle the deck and then stand pat."
In Europe, the German, French and British leaders issued a joint statement thanking Mubarak for his contribution to stability in the Middle East -- Egypt led the way in agreeing to a peace with Israel -- but demanding that he now start the move to free elections, a move that would certainly end his power.
Police shot dead 17 people in Bani Suef, south of Cairo, as street battles intensified in some towns, even as police seemed to leave much of Cairo to the army, an institution generally respected by Egyptians and less associated with oppression.
Demonstrators and soldiers chatted amicably in the capital, but after dark, while some pursued their political goals by defying a curfew, others roamed for booty.
In a country were many struggle to get enough to eat, those privileged to live in areas with shopping malls and fashion stores formed vigilante patrols to protect their property.

Fresh riots erupted in several cities, including in Cairo where three people were killed, and an enraged mob killed three police in the Sinai town of Rafah, bringing the death toll from the nationwide protests to at least 51 since Tuesday.
As Mubarak stood his ground, influential Arab cleric Yusuf al-Qaradawi called on him to quit, telling Al-Jazeera television he should "leave Egypt," as the "only solution to the problem."
"Leave Mubarak. Have pity on the people and get lost before the destruction spreads in Egypt," said Qaradawi, an Egyptian-born theologian and president of the International Union of Muslim Scholars.
And the banned Muslim Brotherhood, the most well-organised opposition group in the country, called for a peaceful transfer of power through a transitional cabinet.
The government resigned on Saturday, a measure Mubarak promised overnight, and the president was due to appoint a new cabinet after stating firmly that he had no intention of stepping down.
And steel magnate Ahmed Ezz, widely seen as a linchpin of a corrupt regime, resigned from the ruling National Democratic Party, where he was a senior member, state television reported.
Protesters have been demanding not only Mubarak's departure but an end to endemic state corruption and police brutality that have become systematic under the president's 30-year rule.
One key thing people will be watching is whether widely hated Interior Minister Habib al-Adly, who has been in office since 1997 and who is responsible for the security apparatus, will keep his job.
They have dismissed the 82-year-old's vague promises of reform as too little, too late.
The army, unlike the repressive police, is widely respected in Egypt, and its appearance on the streets was generally welcomed.
Despite the curfew, shops and offices were looted overnight, and with a thin police presence, the army called "on the Egyptian people to protect the nation, Egypt, and themselves."
That appeared to be an admission that the troops, deployed by Mubarak on Thursday, are unable to control the situation on their own.
Earlier on Saturday, young Egyptians had already formed a human chain to protect the Cairo Museum, which is located in Tahrir Square and which houses the famous Tutankhamun mask and other priceless antiquities.
And efforts were underway around the capital to organise neighbourhood watch committees.
Elsewhere, clashes erupted in the key port city of Ismailiya, northeast of the capital, where thousands of workers fought running battles with police.
In Alexandria, hundreds of people camped out by the main mosque in the centre of the Mediterranean city vowing to protest again, with several police stations still burning amid sporadic looting.
As in Cairo, tanks were deployed and the police were absent. Civilians directed traffic and conducted clean-up efforts.
In Tahrir Square, thousands chanted: "Those who love Egypt, don't destroy it."
Despite the ongoing protests, two Cairo mobile phone networks came back on line on Saturday, a day after all Egyptian operators were told to cut services.
But Internet access appeared still to be cut by late afternoon, with the inability to use microblogging sites such as Twitter or social networking sites such as Facebook affecting activists' coordination of their activities.
US President Barack Obama called on the Egyptian authorities not to use violence against the political protests, driving home his message in a 30-minute phone call with Mubarak.
He urged Mubarak to take "concrete" steps towards political reforms, saying he must turn "a moment of volatility" into "a moment of promise."
Washington has toughened its line on a key Middle Eastern ally, warning Egypt it would review billions of dollars in aid based on the behaviour of its security forces.
In London, British Foreign Secretary William Hague said Mubarak "spoke last night of his commitment to take new steps towards greater democracy and freedom for the citizens. We call on him now to listen urgently to the aspirations expressed by the Egyptian people.
"He must seize this moment to make these reforms real and visible and to base them on the universal values that are the right of people in all countries."
The demonstrations, inspired by events in Tunisia, are the largest in Egypt in the three decades of Mubarak's rule, sending shock waves across the region.
At least 1,500 civilians and 1,000 police have been injured since Tuesday.
Meanwhile, the outside world was reacting nervously to events in Egypt.
Travel agencies postponed departures for popular tourist destination on Saturday, as capitals issued new warnings to their citizens to avoid visiting the country.
UAE Foreign Ministry monitors situation in Egypt
Meanwhile, according to a WAM report, Assistant Foreign Minister for Political Affairs, Dr Tareq Al Hedan, has stated that the Ministry is monitoring with great interest the current situation in Egypt. He said the Ministry is following the conditions of UAE national students and tourists who are currently in Egypt through the Ministry's Department of Operations.
He affirmed that "the conditions of UAE nationals is assuring and that the Ministry is in continuous contact with the UAE Embassy in Cairo to take necessary procedures to ensure their safety."
Obama wades in
US President Barack Obama, meanwhile, called on Egyptian authorities not to use violence against the raging political protests, and drove home his message in a 30 -minute phone call with Mubarak.
Obama's warning came as the US toughened its line on Mubarak'sgovernment, a key Middle Eastern ally, warning it would review billions of dollars in aid to Egypt based on the behaviour of the security forces.
Obama urged Mubarak to take "concrete" steps towards political reforms, saying he must turn "a moment of volatility" into "a moment of promise". "I want to be very clear in calling upon the Egyptian authorities to refrain from any violence against peaceful protesters," Obama said, after aides said the White House was readying for any possible political scenarios in Egypt.
Mubarak, 82, has been a close ally of Washington and beneficiary of US aid for decades, justifying his autocratic rule in part by citing a danger of militancy. The Muslim Brotherhood opposition, however, appears to have played little role in the unrest.
The protests were triggered by the overthrow two weeks ago of Tunisian President Zine Al Abidine Ben Al Ben Ali. Street protests in Tunis focused on similar issues of poverty and political repression. Demonstrations have also flared in Yemen, Algeria, Sudan and Jordan in recent weeks. "There will be new steps toward democracy and freedoms and new steps to face unemployment and increase the standard of living and services, and there will be new steps to help the poor and those with limited income," Mubarak said.
"There is a fine line between freedom and chaos and I lean toward freedom for the people in expressing their opinions as much as I hold on to the need to maintain Egypt's safety and stability," he added.
Police pen Egypt's ElBaradei in protest area
https://www.emirates247.com/news/world/police-pen-egypt-s-elbaradei-in-protest-area-2011-01-28-1.348150
Follow Emirates 24|7 on Google News.