Cricketer Dilshan 'spying' on swimming neighbour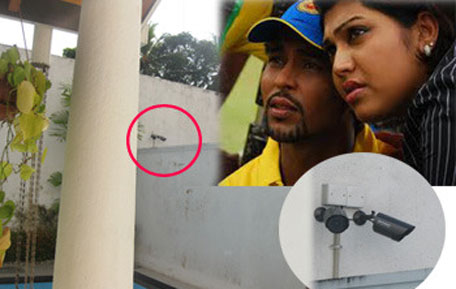 A CCTV camera placed in cricketer TM Dilshan's house focuses on the neighbour's swimming pool.
A incident became dirty when his neighbour Renuka de Costa lodged a complaint saying the CCTV from Dilshan's house zoomed at her swimming pool.
According to Gossip Lanka News, a complaint was filed at the Mirihana Police station by Renuka and investigators allegedly found that the CCTV camera at Dilshan's residence had been positioned focussing towards her swimming pool.
Renuka claims her family's privacy has been violated and that she lives there with her two school-going daughters.
However, another report says police visited Dilshan's house after the news appeared in Sunday Leader newspaper. And they discovered that the said CCTV camera was not focussing at her swimming pool.
However, Renuka claims Dilshan and his wife Manjula Thilini had placed the camera delibrately to check on her. Renuka's husband in employed in Iraq.
The house and property had been bought outright in the names of Renuka de Costa and her husband and they have been residing there since 2010.
It is reported that earlier Renuka and Manjula had been good friends and Dilshan had invited them for several parties even.
It is alleged that things got sour when Dilshan had made a proposal to Renuka's husband when he was on vacation to buy his property and house Rs400 lakhs. His idea was rejected because it was a loss for Costa family as they had purchased the property for Rs 505 lakhs.
It is also reported that her husband was for the deal but it was Renuka and her daughters who didnt want to sell it. Apparently, the couple had a tiff over the issue and Renuka's husband was delayed in returning to his job, too.
Reports claim Renuka's husband also attacked her over this matter and a police complaint was lodged in the matter.
As a solution to this problem Renuka decided to rent out their house for one year to a foreigner and moved to a rented place nearby. After the lease period, she returned.
Meanwhile, Renuka also complained that Dilshan had scolded her several times and that she had previosuly also alerted police about the cameras focussing on her swimming pool.
Meanwhile, when a reporter from Sunday paper called Manjula, she said she doent know anyone by the name Renuka. "Dilshan is a very popular cricketer. This is a means of tarnishing his reputation," she added.
"Police did come to investigate. They found the cameras were focused only on to walls and not at another's house," Dilshan's wife said.
Dilshan is presently on a tour to Australia with the Sri Lanka cricket team. The authorities of the Sunday Leader paper had sent an SMS message questioning about this matter. He had replied saying that he is not aware of such neighbours. But once he returns to Sri Lanka, he would take steps to institute legal action against them.
ALSO READ:
Sri Lankan musical group to perform in Oman
Lankan minister makes India an example of voice against violence against women
SL army dismisses 33,000 personnel
Two kids abandoned in Puttalam
Follow Emirates 24|7 on Google News.