Ex-Army Chief wants ex-CJ to join him to topple government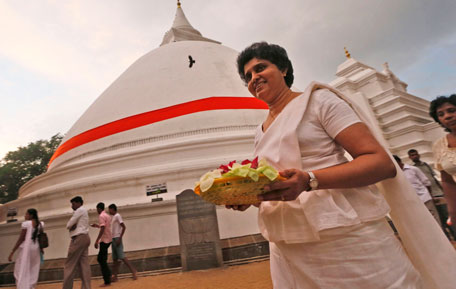 In a renewed call to ousted Chief Justice Dr. Shirani Banadaranayake, Former Army Commander Sarath Fonseka has invited her to join forces with him to topple what he calls the dictatorial Rajapakse regime by forming a new political party, The Island reported.
The ex-Chief Justice, like him, too had become a victim of present regime, addressing a group of journalists in Colombo, Sarath Fonseka said adding there were many more people in the same predicament as they.
"Together we all can bring about the change needed in Sri Lanka politics. We can clean up this mess," he said.
He said that a new political force was necessary to take on the government effectively as his party; the Democratic National Alliance (DNA) had outlived its purpose.
"The government is corrupt to the core and digging its own grave. With the increasing international isolation and crisis at home, I will give this government two years. The UNP is useless. In this context, a new party should come to help the people," he lamented.
Former Army Commander said it seemed that she intended to enter politics as the ex-CJ had made a statement to the media that she would dedicate herself for the cause of the masses.
"When a government has a grasp on all sectors of power, it cannot be defeated without outside support. When the opposition parties muster the support of the international community, they are branded traitors. All the dictators pose as patriots and their political enemies are branded traitors," he said while stressing the need for securing external support to dislodge the present government.
After the conclusion of war in May, 2009, he said that over 75,000 troops had left the security forces and added "The Army is battle fatigued and those who fought the war have not been rested. My plan was to recruit 100,000 additional troops to the army immediately after the war so that those who had been actively in war could be given rest."
ALSO READ:
Sri Lankan musical group to perform in Oman
Lankan minister makes India an example of voice against violence against women
SL army dismisses 33,000 personnel
Two kids abandoned in Puttalam
Follow Emirates 24|7 on Google News.