Bolt 'the greatest' bows out with nine golds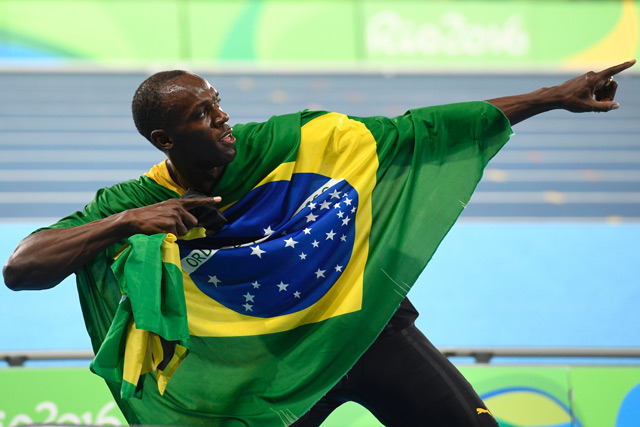 Usain Bolt bid farewell to the Olympics by powering to a record third straight sweep of the sprint medals and a final chance to declare himself "the greatest."
No one had the power on the track nor the courage off it to contradict the 29-year-old whose blistering run gave Jamaica victory in the 4x100m relay.
Allyson Felix hit her own landmark with a fifth gold as the US women won their 4x100m relay, a day after winning a reprieve into the final.
The track drama Friday and the prospect of a Brazil football final on Saturday almost overcame the shame felt by many Olympians after star swimmer Ryan Lochte had to apologise for inventing a story that he had been mugged in Rio.
Victory was not guaranteed when Bolt took the baton for the anchor leg, but he powered down the straight to cross in 37.27sec before soaking up the acclaim from an adoring crowd. A surprise Japan quartet came second, followed by the United States, who were disqualified to give Canada bronze.
A third straight 100m, 200m and 4x100m clean sweep put Bolt alongside Carl Lewis and Paavo Nurmi on nine track and field Olympic golds.
Bolt, who said at the start of the week that he would be an "immortal" if he claimed the 'triple triple,' had no doubt that he deserves more acclaim.
"There you go. I'm the greatest," said the Jamaican, who kissed the finish line as he played to the crowd and the cameras.
And how did he achieve greatness? "Dedication. I wanted it the most. I was never satisfied."
"I hope I've set the bar high enough that no one can do it again," said Bolt whose departure is a second blow to the Olympics after the retirement of swimming legend Michael Phelps with his 23 career golds.
The United States women's sprint team brilliantly beat Jamaica to complete a remarkable comeback from disqualification.
Felix, long jump gold medallist Tianna Bartoletta, English Gardner and Tori Bowie combined to clock the second fastest 4x100m relay ever run, in 41.01 seconds. Felix is the first women athlete to reach five golds.
Really strong
The US team were forced into a solo re-run of their qualifier on Thursday, having overturned a disqualification for a dropped baton exchange between Felix and Gardner.
"It felt like we were really strong tonight. The adversity yesterday made us even more determined and we kept fighting the whole way through," said Felix.
Greece's Ekaterini Stefanidi won the women's pole vault after virus-stricken defending champion Jenn Suhr crashed out.
Kenyan former world champion Vivian Cheruiyot reeled in 10,000m champion Almaz Ayana of Ethiopia to win the women's 5,000m title.
Lochte apology
Off the track, six-gold medal swimmer Lochte apologized for inventing a story about an armed mugging to cover up an act of vandalism at a Rio gas station.
Apart from criticism in the United States, Lochte and three other swimmers with him face an International Olympic Committee disciplinary inquiry.
"The commission members can ask to hear the swimmers and we will see if there is material for a sanction," an IOC official told AFP.
Among 22 golds decided on Friday, Spain's Carolina Marin beat India's P.V. Sindhu in three games to become the first non-Asian badminton women's singles champion.
Sindhu was not too disappointed. "I'm the first Indian woman to get a silver medal at the Olympics so that's a great thing for me," she beamed.
Estelle Mossely celebrated her 24th birthday by beating China's Yin Junhua to become the first Frenchwoman to win Olympic boxing gold.
In stifling heat, world champion Matej Toth won a gruelling 50km walk littered with casualties including France's Yohann Diniz, who soldiered on to finish seventh despite severe intestinal problems.
The United States' NBA stars beat Spain 82-76 to go into a men's basketball final on Sunday against Serbia, who beat Australia 87-61.
Another 30 golds will be up for grabs Saturday when Brazil's soccer star Neymar takes centre-stage as his country play Germany in the final.
The match at the Maracana comes two years after Germany humiliated the hosts 7-1 in the World Cup semi-final at the same legendary stadium.
South Korea's Park In-Bee goes into the last day of the women's golf - returning to the Olympics after 112 years -- with a two stroke lead over New Zealand's world number one Lydia Ko.
The 19-year-old Ko hit her first ever hole-in-one on Friday to keep up the pressure.
Follow Emirates 24|7 on Google News.