DSF 2013: Indian student hits the jackpot winning Dh100,000... and two luxury cars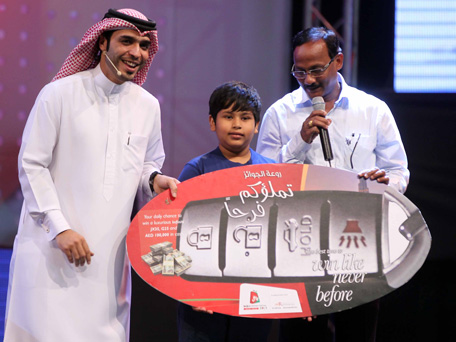 It's raining luxury cars, gold and cash at the daily DSF draws this shopping season

Children are turning out to be lucky at this year's Dubai Shopping Festival (DSF) raffle draws. Of the winners declared on the first two days, one was a newborn and the other a 10-year-old student.

On the first day, baby Shaza Fatima's coupon was drawn at the daily Gold Mega Raffle for a prize of ¼ kilo of gold.

Her Indian father who wrote out the coupon in his daughter's name was ecstatic at the win.

The second day, saw 10-year-old Madhup Roshan, an Indian student residing in Dubai, walking away with two luxurious Infiniti models, the JX35 and G25, and also got to take home cash worth Dh100,000.

His father, businessman Purna Chandra Rao, had entered Madhup's name in the Infiniti Mega Raffle.

"I had a feeling that I was going to win it that day. When I got a call asking for my son, I knew the big moment had arrived," said Chandra Rao, who plans to use the money for his son's future education and to help needy students in India.

"It's great to finally win something that I had been dreaming of for so many years."

To be eligible for the daily draws, one has to purchase a raffle ticket for Dh200 at selected EPPCO and ENOC petrol stations, kiosks at main streets, shopping malls and the Global Village.

Pakistani national Shahed Ahmad won the daily Nissan Grand Raffle draw on January 6 and was given an opportunity to choose from one of 12 Nissan models as his prize.

Customers are entitled to a raffle coupon for every Dh20 spent on non-fuel purchases at ENOC and EPPCO petrol stations or for every Dh200 spent at participating retail outlets.

Sri Lankan M. J. M. Zahran who became the first winner of the weekly Gold Mega Raffle walked away with a kilo of gold.

"At first I thought someone was trying to pull my leg. DSF has made Dubai a great shopping destination and raffles like this tend to increase the popularity of the City of Gold," he said.

DSF visitors can strike gold by participating in the special promotion run by the Dubai Gold and Jewellery Group. For every Dh1,500 spent on gold, shoppers will receive raffle draw coupons that will enter them for the daily draw for quarter kilo of gold or weekly draw for a kilo of gold.

Shoppers can also take part in an unique SMS promotion to win specially minted "EXPO 2020 Dubai Candidate City" gold coins every hour between 10am and 11pm every day.

There's also a scratch-and-win campaign offering customers who shop for Dh1,000 worth of diamond jewellery the chance to win fabulous prizes worth up to Dh2million.
ALSO READ:

Apple vs Samsung: Leaked image of Galaxy S4 heats up race for supremacy


DSF 2013: Where to catch the hottest shows in town


RTA's Salik 3.0: New site for easier pay as you go
Follow Emirates 24|7 on Google News.