Ferguson thrilled by 'amazing' Giggs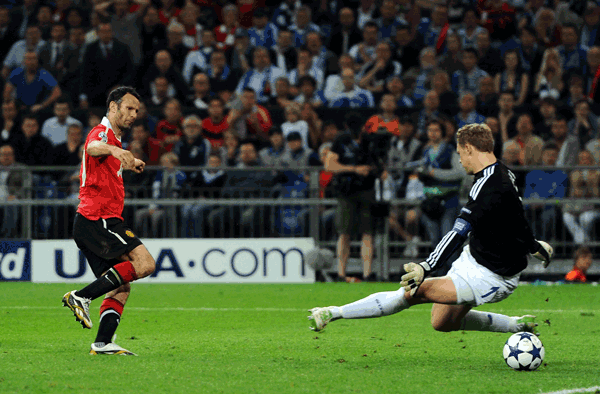 Ryan Giggs's breakthrough goal in Manchester United's 2-0 Champions League semifinal defeat of Schalke 04 added another record to a collection that was already fit to bursting.
The 67th-minute strike, a neat finish between goalkeeper Manuel Neuer's legs from a Wayne Rooney through-ball, broke the hosts' resistance on Tuesday and made the Welshman the oldest goalscorer in the competition's history.
The 37-year-old, architect of all three goals in the 3-1 aggregate defeat of Chelsea in the quarter-finals, was once again one of United's stand-out performers and coach Sir Alex Ferguson praised his astonishing longevity.
"It's a strange thing because his peak seems to have lasted so long now," said the Scot, who handed Giggs his debut as a 17-year-old in 1991.
"You'd think at 37 he'd show signs of waning but I see no evidence of that. We look after him in terms of rest before games - he won't play on Sunday (against Arsenal), but he'll play next Wednesday (in the second leg).
"That's how we deal with it. When he gets the rest, he doesn't show any signs of receding at all. He's an amazing man."
Giggs's opener was followed just two minutes later by a goal from Rooney, as United belatedly found a route beyond the inspired goalkeeping of Germany international Manuel Neuer.
The victory brings a third Champions League final in four seasons into view ahead of next week's return leg, but United will know that they created enough chances at the Veltins Arena to put the tie firmly beyond Schalke's reach.
Ralf Rangnick's side will travel to Old Trafford knowing that an away goal will change the complexion of the tie, but Ferguson refused to fault his team's display.
Asked if it was one of United's best ever European performances under him, he replied: "We've had some fantastic ones. Juventus at Juventus (a 3-2 semi-final secong leg win in 1999) will obviously be high on the list.
"I think it certainly ranks as one of the best, yeah."
Neuer's one-man resistance had United fans fearing the worst until Giggs's opener, and Ferguson said his side had learned how to play with patience on the European stage.
"Concentration is certainly important away from home in Europe," he said.
"It's difficult to do at times. It requires good concentration and, credit to the players, they've shown that throughout the campaign.
"The last two years in Europe, we have found a way of playing away from home. The most important thing is confidence in possession of the ball.
"It's more important away from home in Europe than anywhere else."
The result made United the first team to complete a Champions League campaign without conceding an away goal.
They will now hope to repeat their 2008 feat of going unbeaten through the whole tournament by finishing the job against Schalke and then vanquishing either Barcelona or Real Madrid in next month's final at Wembley.
Follow Emirates 24|7 on Google News.