UAE seek to prey on home advantage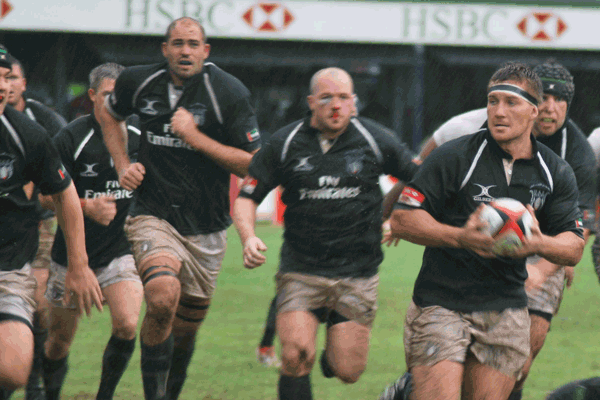 UAE will hope that home conditions will help them to get their HSBC Asian Five Nations Top Five campaign back on the winning track when they take on Kazakhstan at Zayed Sports City in Abu Dhabi on Friday. Kick-off is at 7pm and entry to the ground is free.
It is the first time that the HSBC Asian 5 Nations has been played in Abu Dhabi, the capital of the UAE.
Mike Cox-Hill and his men left Colombo last week with relief etched all over their faces having escaped with a 13-13 draw to Sri Lanka. They will now look at taking a giant step forward in their bid to stay in the elite competition next season by defeating Kazakhstan.
"Given the conditions we faced in Colombo, it was not a bad result to come away with. I guess Sri Lanka must be feeling disappointed that we got away with a draw, but the conditions were a great leveller. Now we must look forward and try to seal our place in this competition by defeating Kazakhstan," said UAE skipper Cox-Hill.
Heavy rain turned the opening encounter in Colombo last Saturday into a mud bath. The bigger UAE pack were tackled to a standstill by Sri Lanka who had a try in the dying seconds of the match disallowed. They also missed two easy penalties as UAE clung on to a draw.
"That result has underlined the fact that in international rugby, one has to take every opportunity that presents itself," said second-rower Cox-Hill. "It proved that we need to play a full 80 minutes, especially the last five minutes which are crucial in an international."
UAE will make two changes to the starting line-up with specialist tighthead prop Munib Haddad, who didn't travel to Colombo, coming in for Dan Boatwright who will move to the bench and David Clouston starting ahead of Stuart Quinn at scrumhalf. In the reserves, back Cyrus Houmayoun comes in to replace prop Mohanned Shaker.
"We have only one a couple of changes," said Cox-Hill. "We realise the importance of continuity and there is a positive mood in the camp."
Bruce Birtwistle, UAE national coach is confident the team has the aptitude to claim this much-needed victory.
"Our game against Sri Lanka provided us with numerous platforms on which to assess and refine our tactics. As a team we performed well under the incredibly difficult conditions which in itself is a valuable learning and development tool," claims Birtwistle. "We are confident that we can build on this and deliver a positive result against Kazakhstan this weekend".
"Sri Lanka was good start but after a draw this is now a really important game in which to do well," said Ian Bremner UAE Rugby CEO. "We need to consolidate and finish strong in order to position ourselves on the field and on the points table as a serious contender for a podium finish."
He was hopeful they would get good support from the home fans.
"Playing this match at home we are expecting to have strong support from the community and the team is looking forward to having this home support" he added.
Friday's match is the first of two home-games for the UAE in this tournament. Their next home-game will be played at Dubai's The Sevens complex on May 13 against defending champions Japan.
The UAE's fourth and final game, against Hong Kong on May 21, will be an away-game and will be shown live on ESPN Star Sports.
Kazakhstan will make two enforced changes to the team which lost 23-10 to Hong Kong in Almaty as blindside flanker Ilya Poplaskiy and hooker Mikhail Solovyev picked up red cards for foul play.
Skipper and No.8 Timur Mashurov will be looking for a much-improved performance from his players, and has urged a fast start. Kazakhstan trailed 20-3 to Hong Kong at halftime and although lock-forward Yevgeniy Shekurov scored a try late in the second-half, the comeback was left too late.
Kazakhstan know a second successive defeat could spell the end to their ambitions of finishing Asian runners-up for the second successive year.
"This game is the most important match for us in the A5N," said Mashurov.
"If we lose in Abu Dhabi we could be relegated. But the atmosphere is good in the squad. We know that if we play the same way we played in the second half against Hong Kong, when even with only 12 players we were attacking; if all 15 of us play with that same spirit from the first minute, the result will take care of itself."
Last year Kazakhstan defeated the Arabian Gulf - now disbanded and replaced by UAE - 43-28.
"They were leading 33-28 with three minutes to go before piling on ten points," Cox-Hill recalled. "Like I said, the last few minutes of an international are the most crucial and we have to be at the top of our game at this stage."
"The importance of beating Kazakhstan cannot be understated. The good thing this week is that we are back on familiar ground. We know the pitch, we know the conditions and with the help of our home fans, hopefully we will be able to get a win," Cox-Hill added.
This weekend's other HSBC A5N 2011 Top 5 match is Hong Kong versus Japan on Saturday at Hong Kong Football Club (kick-off 1600).
UAE squad
Andrew Millar – Dubai Dragons
Carl Von Rosenveldt – Dubai Exiles
Chris Jones Griffiths – Abu Dhabi Harlequins
Dan Boatwright – Dubai Hurricanes
Dan Heal – Dubai Dragons
David Clouston – Dubai Hurricanes
David Vittes – Dubai Exiles
Duncan Murray – Dubai Hurricanes
John Beeton – Dubai Exiles
Jonathan Grady – Dubai Dragons
Lloyd Budd – Dubai Exiles
Mike Cox-Hill – Dubai Exiles (Captain)
Ali Mohammed – Dubai Wasps
Renier Els – Abu Dhabi Harlequin
Scott Kerr – Dubai Dragons
Sean Hurley – Dubai Dragons
Simon Osbourne – Dubai Hurricanes
Steve Smith – Dubai Hurricanes
Stuart Quinn – Dubai Exiles
Tim Fletcher – Dubai Dragons
Mike Riley – Dubai Exiles
Cyrus Homayoun – Dubai Dragons
Follow Emirates 24|7 on Google News.