'A one-stop-shop policy helps both property owners and developers'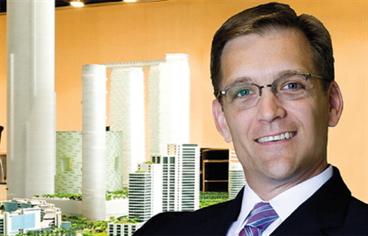 As the market continues to affect real estate sales and rentals, an increasing number of developers are looking to grow services management arms with a view to creating additional revenue streams.

Sutton Turner, CEO of Khidmah, an Abu Dhabi services management company set up by Sorouh Real Estate and Capital Investments, spoke to Emirates Business about this emerging trend and its effects.


Apart from the obvious revenue stream, why would a services management firm also focus on leasing and reselling properties Shouldn't the focus be on one area?

First, we believe that servicing the client is our focus. We are focused on providing good quality service at a low price. To meet both of these objectives, you have to have a different business model than what is currently used. As we have seen over the past couple of years in the UAE, the outsourcing model does not always produce good service at a low price.

Second, when an owner comes in for final handover, they don't want to talk to four or five different companies. Since Khidmah is on site, doing the community management, it is easy for us just to add these services.

Third, when I was in the United States, my company provided all of these services and found tremendous efficiency for my company and the customer, increasing the quality of service and decreasing the costs.

Would it have been simpler to float a sister unit that would act as a real estate firm?

In such a scenario, at least the demarcations and, therefore, the client recall is distinct. [But] the sister unit approach is not what we decided would be best for our customers. We truly believe where we are going with the strategy of Khidmah is a current-day 'Blue Ocean Strategy'.

You cannot keep doing the same thing and expect different results. So we have ventured into the services management business, where we provide facilities, maintenance, cleaning, leasing, and other services under one roof.

Will all your projects stay within Abu Dhabi or are you looking at Dubai as well?

We are [already] in Dubai. We will soon be operating Lake Shore Tower [in Jumeirah Lakes Towers] and we are very excited at the opportunity to show what we can do. We have started getting calls from many groups that would like our style of management in their community.

As developers grow services management arms, does it mean that these firms will only service their parent company's projects?
Being in the development business and management business is totally different, and requires totally different people, processes and procedures. However, we are not concerned with other companies, as we see lots of progress to be made in the customer services areas.

At Khidmah, we currently take care of a few third-party clients and we look to increase this to other owners/properties who want to provide good service at a low price. We believe the market for a good services management company is huge and there is lots of room for many participants.

How does one go about attracting other developers' projects?

Right now, we are focusing our attention on running our business, fine-tuning our integrated software, deploying handheld devices on our properties, and other innovative processes and technologies.

We believe that running our current properties well and offering good quality service at a low cost will attract business.

While running the company in the US, the company never advertised, but it was still able to grow from two people to 330 employees across 10 states.

I believe the best advertisement [for a business] is a good, satisfied customer and services charges that are low. I don't believe we need to look for attracting other developer's projects; I believe customers and developers will find us.

How will the addition of so many new players affect the total industry going forward? What will the key differentiators be?

Abu Dhabi 2030 and Dubai 2020 [strategic plans] are great visions by great leaders. However, building these properties is only the start of fulfillment of these visions. The maintenance and operations of these properties are many times overlooked.

The one thing we hope to see with new players is the development of a Management Association across the UAE. This association is common in mature markets to help with educational programmes, government policy, certification, conferences and other programmes that help promote and develop the industry.


PROFILE: Sutton Turner CEO of Khidmah

Turner has spent 13 years in the real estate sector and his particular expertise lies in real estate management. Before the founding of Khidmah, Turner was executive director of asset and property for Sorouh Real Estate. Sorouh is a publicly listed company based in Abu Dhabi with projects, both existing and in development, valued in excess of Dh70 billion ($19bn).

Prior to coming to the Middle East, the American was President and Founder of Mission Housing Management and Madera Construction, a full-service real estate management company in the United States, where he managed almost 40 locations across 10 states, employing a team of 330 people to deliver combined real estate services.

Turner is an alumnus of Harvard Business School, has a master's degree in business administration from Southern Methodist University, a master's in agriculture and bachelor's degree in science from Texas A&M University.
Keep up with the latest business news from the region with the Emirates Business 24|7 daily newsletter. To subscribe to the newsletter, please click here.
Follow Emirates 24|7 on Google News.