Higher yields will bring property investors to Dubai: Deyaar CEO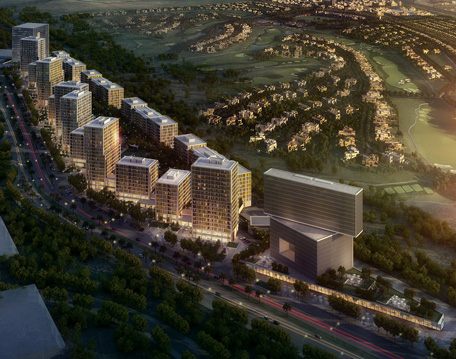 Deyaar Development, a Dubai-based developer, has unveiled phase one of its Dh3-billion Midtown development in International Media Production Zone (IMPZ), expecting rental yields of 11 to 12 per cent will entice investors to buy in their mid-income housing project.

"Yields in our project are expected to be in today's market to be in the range of 11 to 12 per cent. And even if the market goes down by 15 to 20 per cent, this project will give a yield of 7 to 8 per cent. So we think in a real estate market those yields are attractive for investors," company CEO Saeed Al Qatami said on Monday after launching the Afnan District, comprising seven residential towers.


Saeed Al Qatami CEO Deyaar

"As has been the case for some years now, every September we see an upturn in sentiment and resurgence in the sector. This year has faithfully reflected the same optimism, with indications that the upturn will continue through the year," he added.

The Global Property Guide, a website that compiles and analyses property price performance of the world's big economies, puts gross rental yields in Dubai among the highest in the world, ranging between 5 and 7.21 per cent per annum.

No steep price, rent correction

Ruling out any steep price or rental correction in the market, the official stated that such a possibility was likely only in the case of a major oversupply in the market. Dubai, in fact, has witnessed launch of 120 off-plan projects in the past two years.

"It is always difficult to forecast what the future will be. But if you look at Dubai real estate, fundamentals are still there… yields are at a good rate.

"Yes, there will be supply coming in 2016 and 2017, but we know for a fact that Dubai has been an attraction though various things are happening around us. Large enterprises and corporates are continuing to grow here and we do expect demand to come from there."

In June this year, Standard & Poor's Ratings Agency said property prices in Dubai's residential housing market are expected to fall by 10 to 20 per cent this year. Other international consultancies too have predicted prices to fall by 5 to 10 per cent, as transaction volumes have dropped significantly in the first two quarters.


However, Moody's Investors Service has said the government spending on infrastructure and encouraging more foreign investments in various sectors will support the real estate market over the next five years.

Property sales slow

Al Qatami admitted investors have been partially reluctant to buy due to prevailing uncertainty in the global market, driven by lower oil prices and stock market corrections.

"But we believe that if you offer, regardless of the sentiment whatever they be, a product (location and quality), investors will be attracted."

Property consultancies have pointed out that the cost of owning a property is cheaper than renting though buyers have to note that the UAE Central Bank has a mortgage cap in place (so you have to pay 25 per cent down payment) and 4 per cent transfer fees of the property value.

Afnan District, covering an area of 1.2 million square feet, will include G+6 to G+16 buildings, comprising a total of 659 apartments (132 studios, 374 one bedroom apartments, 143 two bedroom apartments, and 10 three bedroom apartments).

Though Al Qatami did not reveal the sale prices, he asserted that it would be 'competitive' as sales will commence shortly.

The developer has appointed Hyder Consulting, a design and engineering consultancy, as lead consultant and U+A Architects, for architecture, planning and interior design.

Project completion by 2020

"Construction is scheduled to begin in the last quarter of 2015 and the phase is expected to be completed by end-2018," said company Vice President – Projects and Engineering Iyad Charchar.

Midtown, was originally launched in September 2015, will be spread across 5 million square feet area, and house 27 towers, a total of 2500 residential units, and two hotels.

"We are expecting to complete 90 per cent of the development before 2020," Al Qatami said, adding the company will raise 50 per cent of project cost through bank loans and will retain 50 per cent of the Midtown to strengthen its leasing portfolio.

Follow Emirates 24|7 on Google News.