Mideast oil giants eye Asian storage to boost market share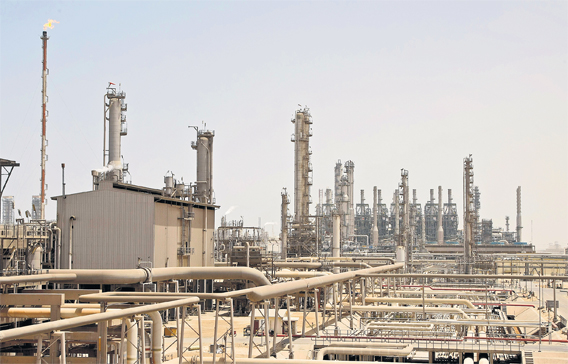 Middle East oil producers are making moves to boost their onshore crude storage capacity in Asia as they seek to strengthen their position with buyers in a region which still has a strong thirst for more oil.
As the traditional demand centres of the United States and Europe flatline following the global financial crisis, Middle East producers are increasingly being forced to fight for market share with Russia inside Asia.
New supplies from Russia to Asia may speed moves by Middle East producers to procure Asian storage. Cheaper and higher quality crude flowing in from the Russian East Siberia-Pacific Ocean (Espo) pipeline in the Far East, threatens to displace Middle East producers from key consuming Asian markets such as China, India, South Korea and Taiwan.
"Espo volumes are still low and do not pose a threat in the near term, however once ESPO flows increase in volume, Middle East producers may have to protect their market share," said Vivek Mathur, an analyst at Energy Security Analysis.
Last December, Saudi Arabia's Oil Minister Ali Al Naimi said the kingdom had accepted an offer to put "millions of barrels" of crude oil in commercial storage in Japan underscoring the increasing importance of China and Asia as demand centres. The deal is still under negotiation.
"The Saudis want a break bulk point and this is another way for them to get into China," said Al Troner, President of US-based Asia Pacific Energy Consulting (Apec).
The storage would facilitate breaking down large two million barrel cargoes that sail east from Saudi into smaller cargoes that can more easily meet demand variations and deliver to smaller coastal refineries.
"The Saudis have storage in what they know is a key market, and they'd be able to get the oil to Japan or and China in case of any disruptions," said David Kirsch, PFC Energy's Director of Market Intelligence Service.
The Saudi move comes well behind Abu Dhabi, which pumps most of the oil being produced in the UAE.
In 2009, Abu Dhabi National Oil Company put the first crude in a reserve base in southern Japan, as part of deal it reached with Japan to store crude in the world's third-largest oil consumer.
The deals mirror similar agreements between South Korea and foreign oil firms including Norway's Statoil, Algeria's state-run Sonatrach, and France's Total, which Korea is looking to expand.
Still, storage has been in demand since the global economic slowdown ate into demand and encouraged traders to keep oil for sale later at a profit.
This would make it harder for Middle East and other producers to procure more tanks for their oil.
Besides North Asia, Middle East oil producers are also studying the options of storing their crude in South and Southeast Asia and South Asia, oil industry sources said.
Qatar has eyed storing crude on an Indonesian island 45 minutes sailing from trading hub Singapore.
Underground oil caverns Singapore have attracted interest from some Middle East producers including the Saudis, sources said. The kingdom has also considered storage in China.
Iran, the world's fifth-largest oil exporter, signed a memorandum of understanding in 2007 with China about the possibility of building a strategic crude storage terminal there.
Officials familiar with the project said that Tehran was making a concerted effort in 2010 to push this project.
India has also held talks with Middle East producers to jointly set up crude oil storage facilities to secure supplies.
Follow Emirates 24|7 on Google News.