Online trading grows at DFM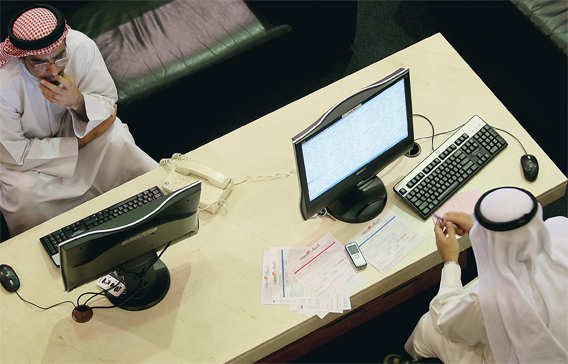 Online trading, or e-trading, has registered a growth in Dubai Financial Market (DFM) where 67.4 per cent of the buy trades and 70.7 per cent of sell trades were carried out online in 2009.
E-trading services became very popular last year as two thirds of all trading activities were carried out online, as against almost 50 per cent in 2008.
"E-trading buy trades accounted for 67.4 per cent of the total buy value in 2009 compared to 49.8 per cent in 2008, while electronic sell trades accounted for 70.7 per cent of the total value in 2009 compared to 53.2 per cent in 2008," an official release said yesterday.
The total value of electronic buy trades reached Dh117.06 billion in 2009, while sell trades value reached Dh122.6bn.
The DFM's total trading value stood at Dh173.5bn in 2009, according to the official statement.
"The top five active brokerage firms utilising e-trading in 2009 include Direct Broker for Financial Services (Dh17.2bn), EFG-Hermes Brokerage (Dh14.9bn), Mashreq Securities (Dh12.9bn), Abu Dhabi Financial Services (Dh11.9bn) and Islamic Financial Services (Dh11.4bn)," the DFM statement added.
Hassan Al Serkal, the DFM's Chief Operations Officer, said that these encouraging statistics indicated the evolving shift towards electronic trading as an effective, fast and reliable tool for investors and brokers.
"The DFM has always been committed to encouraging market participants to shift to e-trading by providing the necessary technical support to encourage brokerage firms to expand and optimise these tools," said the operations officer.
Follow Emirates 24|7 on Google News.