Japan exports to US offset slower shipments to China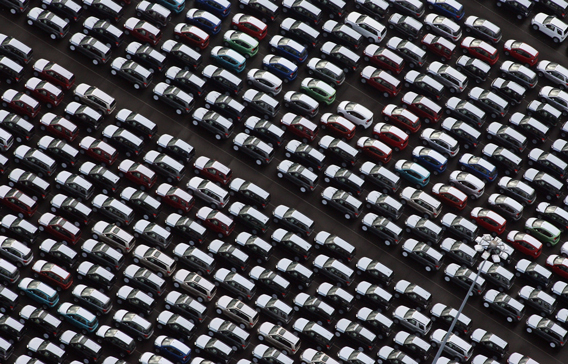 Japan's exports slipped in February, but analysts said a recovery trend was in place, attributing the drop to the Lunar New Year holiday in Asia and pointing to a rise in auto exports to the US.
The Lunar New Year fell in February this year instead of January last year, resulting in slower growth in exports to China last month and a 1.7 per cent drop in overall exports – the first fall from the previous month in a full year.
But auto exports to the United States were robust, with US-bound shipments of cars posting their biggest annual rise on record.
External demand will likely set the course for the economy in the near term as Japan's national debt is almost twice the size of the economy itself, making new fiscal stimulus unlikely soon.
Analysts also said overall exports to the United States posted a double-digit gain in seasonally adjusted, month-on-month terms. Brisk demand in the world's biggest economy also helped South Korea's exports to the United States post their biggest annual gain since 2007.
"The figures overall underline the view that exports are on an uptrend, and the trend may well have strengthened," said Yasuo Yamamoto, senior economist at Mizuho Research Institute.
The numbers helped to alleviate some concerns that Toyota Motor's massive global recall would have a big impact, although analysts said those worries as well as concerns about the pace of growth in China remain.
Compared with a year earlier, exports rose 45.3 per cent led by auto shipments to the United States and electronics parts to Asia.
It was the third-biggest annual gain on record and in line with a median forecast for a 45.7 per cent rise.
Shipments to all regions grew for the first time since August 2007.
A finance ministry official said that while exports were recovering, they were still only 70 per cent of the average level seen in the year to August 2008, just before the collapse of Lehman Brothers triggered a global recession.
Shipments of cars doubled, while shipments of car parts jumped 121.7 per cent from a year ago.
Still, some economists attributed those rises to a build-up in car and car part inventories by overseas automakers, which had let their stocks deplete amid the global economic slowdown, adding that shipments of these goods could soon slow.
"Exports are growing due to autos and auto parts. This could be a build up in inventories, and that likely won't last long," said Takuji Okubo, chief economist at Société Générale in Tokyo.
Signs that the recovery in exports could slow could hurt the Democratic Party-led government, whose popularity ratings have tumbled ahead of an upper house election expected in July.
Rebounding exports were a major driving force behind Japan's economic recovery last year from its worst recession since the Second World War, with shipments to Asia leading the way thanks to strong growth in the region.
Economists forecast Japan's growth will slow early this year as the boost from worldwide stimulus spending fades and as the government cuts public works spending. Exports to Asia, which account for more than half of Japan's total exports, rose 55.7 per cent in February from a year earlier, slower than a 68.3 per cent rise in the previous month.
Growth in exports to China also slowed to an annual 47.7 per cent rise in February from an 80.0 per cent gain in January, while shipments to the United States gained an annual 50.4 per cent, versus a 24.2 per cent rise in January.
The trade balance came to a surplus of ¥651 billion (Dh26.4bn).
Record budget
Japan's parliament approved yesterday a record $1 trillion (Dh3.67trn) budget for the fiscal year from April, with an all-time high of ¥44.3trn (Dh1.7trn) in new bond issuance underlining the country's tattered finances.
Prime Minister Yukio Hatoyama has said he sees no need for economic stimulus now as the risk of a double-dip recession is receding.
But he added that the government should be ready to act if necessary given lingering downside risks such as unemployment.
"I think we can avoid a double-dip but it is important to prepare so we are able to take appropriate steps as needed," Hatoyama told lawmakers in parliament.
A tiny coalition partner in the Democratic Party-led government has called for ¥11trn in fresh stimulus to boost the economy before an election expected in July, amid sliding support for the government.
Follow Emirates 24|7 on Google News.