Mideast earned EADS 9% of its 2009 revenues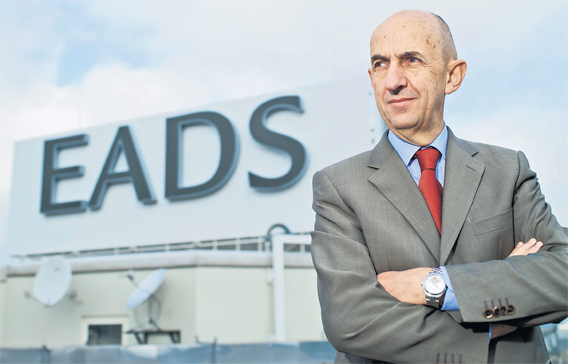 EADS and the Middle East's aviation sector have both come a long way in just a decade. As EADS (European Aeronautic Defence and Space) prepares to mark its tenth anniversary in July, it's worth noting the valuable contribution that the Middle East has made towards the company's development and how business links are likely to strengthen going forward.
In a relatively short space of time, the Middle East has become a key market for EADS, generating nearly nine per cent of the group's €42.8 billion (Dh211.83bn) revenues during 2009. And it is likely to become even more important as order intake in the region last year amounted to 11 per cent of the group total of €45.8bn.
The development of aerospace-related activities in the Middle East has been remarkable since 2000. During that time, the EADS divisions – Airbus, Eurocopter, EADS Astrium and EADS Defence & Security – have either consolidated their market positions or made significant breakthroughs in the region. This has helped the group increase its total revenues from the €30.8bn recorded in 2001 – the first full year of EADS – and put it on track towards the targeted €80bn in 2020.
Even in 2009, which was a very tough year overall for the world's airlines, Middle East carriers reported an 11.2 per cent rise in international passenger traffic measured in revenue passenger kilometres while freight traffic rose 3.9 per cent, according to the International Air Transport Association (Iata).
This shows that the underlying demand for air transport in the region still has great potential despite recent economic difficulties. Just look at the rapid expansion of Dubai International Airport. International passenger traffic there is expected to reach 46 million this year, up from just 13.5 million during 2001. One of the most pleasing sights during last November's Dubai Air Show was to witness Airbus A380 airplanes taking off on commercial flights – earning money for the airlines.
The EADS group's great strength is the extensive range of products and services it can offer – from commercial aerospace to defence and security to space. Airlines in the region such as Emirates Airline, Qatar Airways and Etihad Airways are all buyers of Airbus' flagship A380 and future A350 XWB aircraft. In the military sector, Saudi Arabia and the UAE have each ordered Airbus Military's A330 MRTT mid-air refuelling tanker aircraft while EADS Defence & Security is the prime contractor for a major national border security programme in Saudi Arabia. Astrium, meanwhile, has an important satellite partnership with Yahsat in the UAE and Eurocopter has supplied a number of its models to the region and has a co-operation agreement with Abu Dhabi Aviation for rotor blade repair and maintenance for the regional fleet. Importantly, Eurocopter's advanced Tiger military helicopter made its first public appearance in the Middle East at the 2009 Dubai Air Show.
Under EADS' long-term strategy plan known as Vision 2020, the company aims to expand its international footprint outside of its home countries in Europe in order to access new markets and technology resources and increase sourcing of products internationally. The Middle East fits squarely into this plan and EADS stands ready to help countries in the region develop their aerospace industries. Already, EADS has signed a major supplier agreement with Mubadala Aerospace in Abu Dhabi that will extend the company's footprint in the region in terms of production capabilities and suppliers and help the emirate become a global aerospace hub. In Qatar, EADS is a founding member of the Science & Technology Park.
The company is open to forging further partnerships within the Middle East in the coming years. Just like its key partners and customers based in the region, EADS is here for the long-haul.
STRADDLING THE SKIES
EADS (European Aeronautic Defence and Space Company), the parent company of Airbus, is a global leader in aerospace, defence and related services. In 2009, the group – comprising Airbus, Eurocopter, EADS Astrium and EADS Defence & Security – generated revenues of €42.8 billion and employed a workforce of more than 119,000.
Follow Emirates 24|7 on Google News.