Manny Pacquiao talks of quitting early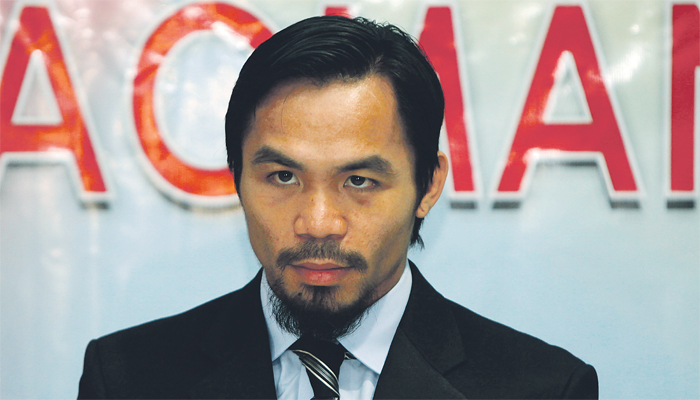 Boxing's pound-for-pound king Manny Pacquiao hinted at retirement yesterday, saying he didn't need to face Floyd Mayweather to cement his legacy in the ring.
"I reached my dream as a boxer without Floyd Mayweather in my career. I do not need him, they are the ones who need me," Pacquiao, 31, told reporters upon his arrival back home in the Philippines following his latest victory.
He then emphasised his mother's repeated pleas for him to finally hang up his gloves after a phenomenal career that has seen him become the only fighter in history of the game to win seven world titles in as many weight divisions.
"She kneels down and cries every time [she asks me to quit]. That's a heavy burden when it's my mother doing that," he said.
Pacquiao appeared to be even more direct about retirement, in comments published on the website of local TV station GMA.
"It may not reach a point where I will fight Mayweather. I may announce retirement, I will talk with my family about it," Pacquiao said, according to GMA.
Pacquiao defeated Ghana's Joshua Clottey to retain his World Boxing Organization (WBO) welterweight belt in the United States last week.
He has now won 12 consecutive fights, eight by knockout, since losing to Erik Morales in March 2005.
Talks for a Pacquiao-Mayweather fight fell through earlier in the year when the American insisted on Olympic-style drug testing, which the Filipino refused.
The dream match is one of the most anticipated ever and could provide the biggest payday in boxing history for the fighters.
The undefeated Mayweather is to fight Shane Mosley on May 1 of this year, and negotiations could then resume for a bout with Pacquiao after that, the American's promoters have said.
Follow Emirates 24|7 on Google News.