Cleaning company spreads its web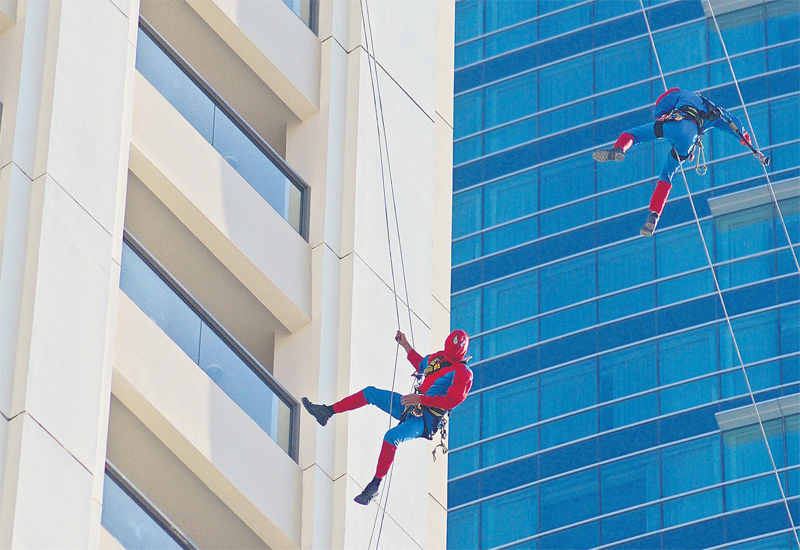 Life often imitates art, but this must be the first time something as prosaic as a cleaning firm apes a comic book hero.
Spider-Style, a regional maintenance company, uses Spider-Man-style tactics to inspect, fix and clean building façades – and business is so good the company now hopes to spread its web further across the region.
Managing Director Mazen Harake says he is in the midst of opening an Abu Dhabi office at the moment. A branch in Kuwait should be a reality by the end of the year, with a Saudi office also on the cards.
The expansion, he said, would be self-funded.
Harake's team use abseiling and rappelling techniques, which are more commonly employed to scale steep mountain slopes, to do their jobs. "We've adapted the technique for use in the cleaning and maintenance of highrise and residential buildings and now specialise in rope-access jobs. The majority of our work is now tower cleaning," he said.
Workers who clean buildings need to spend between two and six months in training to be able to reach heights of 10 or 50 storeys, respectively. Every worker must be certified and all of them are insured, Harake said. "Initially they tend to be quite scared, but once they've gone on a job, they get used to it," he added.
In a PR stunt this month, Harake's men were seen performing the final cleaning duties on the façade of a new hotel in Jumeirah Beach Residence – dressed in Spider-Man costumes.
Spidey-Style was launched in Qatar before opening a UAE office two years ago.
Follow Emirates 24|7 on Google News.