Rebels blame Gaddafi for Benghazi blast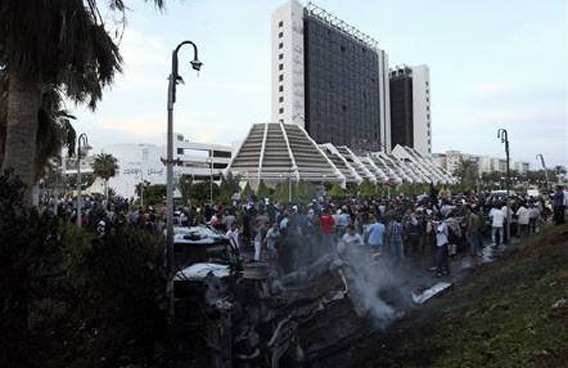 Libya's rebel administration blamed a huge car bomb blast in their stronghold of Benghazi late Wednesday on forces loyal to Moamer Gadhafi.
"This act of terrorism shows, once again, the irresponsible and criminal nature of Ghadfi's regime," National Transitional Council (NTC) chairman Abdul Jalil said in a statement.
The bomb rocked a major hotel in the Libyan rebels' capital in the east of the country, but caused no casualties, witnesses and police said. The NTC statement confirmed that no one had been hurt.
"No terrorist act can reverse the path towards freedom, democracy and human rights in Libya, which is chosen by the people of Libya and supported by the international community," Jalil added.
"We will take all measures to bring perpetrators to justice and to ensure the safety and security of the Libyan people."
Two cars were destroyed in the explosion, which occurred in the parking lot of the Tibesti hotel used by rebel leaders, diplomats and journalists, an AFP correspondent said.
A police officer said a bomb was detonated in one car and the blast damaged a second car parked next to it.
Minutes after the blast a crowd of about 500 people gathered, waving flags of the rebellion and chanting "Free Libya," as a huge plume of black smoke billowed across the sky.
A group of youths clambered onto one of the damaged vehicles, waving flags and shouting "No to Gadhafi."
The Tibesti is the hotel where Italian Foreign Minister Franco Frattini inaugurated an Italian consular office on Tuesday.
In doing so, he told reporters that "Gadhafi's regime is finished" and that Italy would fully support the NTC, the political arm of the rebellion.
Frattini's comments drew strong condemnation from the Tripoli regime.
Follow Emirates 24|7 on Google News.