Indian state plans the world's tallest statue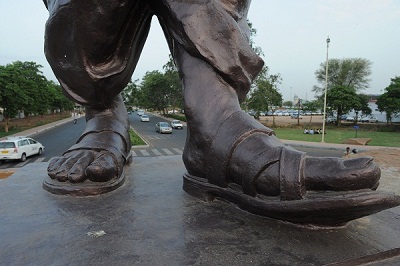 The Indian state of Gujarat has invited global tenders to help build the world's tallest statue -- a 182-metre memorial to an independence hero that will cost $300 million.
The towering 597-feet figure, which would reach almost halfway up New York's Empire State Building, will bear the likeness of Vallabhbhai Patel, the freedom fighter who guided India's integration into a united, independent nation.
Patel was born in Gujarat and the state government has been kicking the statue proposal around for some time, but now the plans appear to be moving forward.
In the latest edition of The Economist magazine, the government took out a full page advertisement inviting tenders to provide consultancy services for the project, including scrutiny and vetting of the structural blueprints.
According to the advert, the statue of Patel, which will be known as the "Statue of Unity", will be built on an islet in Gujarat's Narmada river, a few miles downstream from the giant Narmada Dam hydroelectric project.
It is a pet project of Gujarat Chief Minister Narendra Modi, who believes the structure will be "standing high, not just in metres and feet, but much more in terms of academic, historical, national and spiritual values."
"My vision is to develop the place as a source of inspiration for ages to come," Modi wrote in a recent blog.
"It will have a high-tech museum, chronicling 90 years' history of India's freedom fighters. Going much beyond a structure, it will be developed as a research and academic centre for preserving the unity and integrity of India."
Known as the "Iron Man of India", Patel played a major role in the struggle for independence from British rule.
A close friend and ally of Mahatma Gandhi, with whom he shared a prison cell, he became the leader of the Congress Party in 1934 and was a leading force in the Quit India civil disobedience movement.
Patel's lasting legacy was forged in his role as India's first home minister, when he was tasked with moulding a united country from hundreds of semi-autonomous princely states and British-era colonial provinces.
The monument, which will only be accessible by boat, will have lifts to take visitors to the top for a panoramic view from Patel's eye.
It will be four times the height of the Statue of Liberty and six times that of Christ the Redeemer in Rio de Janeiro.
It would also tower 50 metres over the 128-metre Spring Temple Buddha in China's Henan Province which currently holds the title of world's tallest statue.
Modi is a controversial politician, who has been credited with turning around Gujarat's economic fortunes but is tainted by accusations of complicity in the massacre of Muslims during riots which swept the state in 2002.
Despite impressive economic growth figures, poverty and hunger levels remain high, especially among Gujarat's large Muslim population and lower caste Hindus.
"If Mr Modi really wants to show his respect for Sardar Patel, he should spend this money on the upliftment of those living below the poverty line and on improving the infrastructure," said Mahesh Pandya, director of Paryavaran Mitra (Friends of the Environment), based in Gujarat's largest city, Ahmedabad.
"Such an expenditure on erecting a statue cannot be justified in a scenario when people are dying of hunger and poverty," Pandya told AFP.
Other critics have compared Modi to the chief minister of Uttar Pradesh, Mayawati, who has spent hundreds of millions of dollars erecting statues of herself and other icons of the lowest-caste dalit community to which she belongs.
However, Gujarat government spokesman Jainarayan Vyas argued that ambitious, large-scale public projects could make an important contribution to a state's status and sense of self-worth.
"Several projects have long-term implications and their value cannot always be measured in terms of profit and loss," Vyas told AFP.
"Sardar Patel has not been given his due in Indian history. We believe Patel deserves a monument befitting his stature and the heights he achieved during his lifetime," said Vyas, who is Gujarat's health and tourism minister.
"You can say the statue is a metaphor for his tall achievements," he added.
Follow Emirates 24|7 on Google News.