Tens of thousands rally as Yemen toll mounts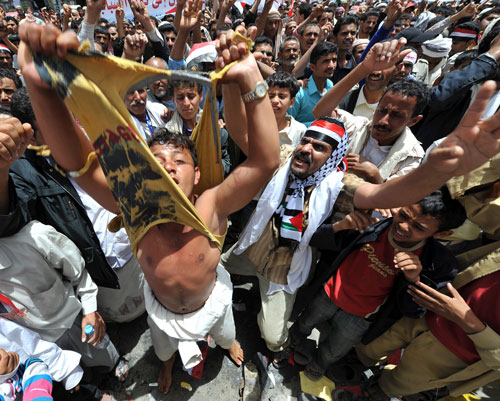 Tens of thousands of Yemenis rallied Wednesday as police shot dead one demonstrator and wounded 30 others even after calls mounted for President Ali Abdullah Saleh to stand down over the bloodshed.
The protesters converged on Al-Huriya (Liberty) Square in the southern flashpoint city of Taez after more than 20 demonstrators were gunned down in clashes across the Arabian Peninsula country this week.
Following the brutal crackdown, strong statements condemning the violence were issued by the United Nations, European Union, and United States, which has considered Saleh a key ally in its fight against Al-Qaeda.
The deaths came as Saleh and his foes welcomed a proposal by Gulf states to mediate in their demands for the veteran president to resign after more than three decades in power.
Dissident General Ali Mohsen al-Ahmar meanwhile accused forces loyal to Saleh of trying to kill him in an ambush in which an unspecified number of other people lost their lives.
Overnight, police shot dead a protester and wounded 30 others in Taez, witnesses said a day after five people were killed in a firefight in Sanaa between troops of an army division that has sided with anti-regime protesters and tribesmen close to Saleh, security officials said.
Monday's deadly clashes with security forces in Taez and Hudaydah prompted the UN High Commissioner for Human Rights to condemn the "disproportionate and excessive" use of force.
"We are very alarmed by reports of disproportionate and excessive use of force, including machine guns, against peaceful protesters by government security forces," said Navi Pillay's spokesman.
White House spokesman Jay Carney said: "The United States strongly condemns the use of violence by Yemeni government forces against demonstrators in Sanaa, Taez, and Hudaydah in the past several days".
"We call upon the Government of Yemen to conduct full investigations into these events and to hold those responsible accountable for their actions," Carney added.
In a further sign of ebbing support for Saleh, the statement called on him to resolve the political impasse with the opposition so that "meaningful" political change could take place in an orderly and peaceful manner.
In London, British Foreign Secretary William Hague said he was appalled by the bloodshed and condemned the "indiscriminate violence" of security forces.
On the political front, Saleh welcomed on Wednesday an offer by Arab Gulf monarchies' to act as mediators between his regime and its opponents, said a statement on Saba state news agency.
Saleh "affirmed the necessity of a serious and fruitful dialogue to overcome the current crisis," it said.
The six Arab Gulf monarchies will begin contacts with the Yemeni government and opposition to overcome the current situation, their foreign ministers said following a Sunday meeting in Riyadh.
Opposition spokesman Mohammed Qahtan said "we have welcomed (the Gulf Cooperation Council invitation) and said we will attend, but to discuss a transfer of power only".
But other figures in the opposition remained cautious.
"We welcome any effort that would lead to (Saleh's) immediate departure, but we haven't received anything to discuss yet," said Mohammed Al Sabri, another top opposition official.
The European Union urged Saleh to begin a political transition "without delay."
According to medics and witnesses, about 125 people have now been killed in Yemen's crackdown on protesters, who launched nationwide demonstrations in late January to unseat Saleh, in power since 1978.
Washington, which has expressed fears of Al-Qaeda taking advantage of a prolonged crisis, is now pressing him to negotiate a transition of power.
"We are obviously concerned that in this period of political unrest that Al-Qaeda and other groups will attempt to take advantage of that power vacuum," White House spokesman Jay Carney said on Monday.
But the Pentagon said there were no plans to suspend US military aid to Yemen.
Amnesty International warned Wednesday against any immunity deal for those responsible for the deaths of dozens of anti-regime demonstrators in Yemen, especially the "Black Friday" bloodbath.
In the Bloody Friday bloodbath of March 18, 52 people were gunned down in what the rights group called "an apparently coordinated sniper attack on a protest camp in Sanaa".
Follow Emirates 24|7 on Google News.