Dhoni's final gambles pays off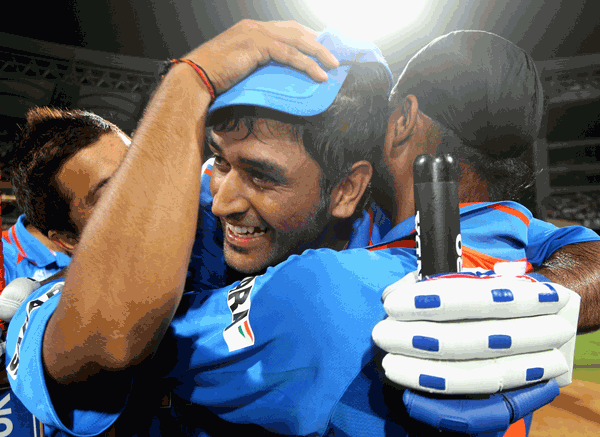 India captain Mahendra Singh Dhoni was ready for potential pillory after taking a couple of gambles that could have easily backfired in Saturday's World Cup final against Sri Lanka.
Dhoni and his team mates have had strained relations with the local media, with the press criticising Dhoni's preference for the inconsistent Piyush Chawla over Ravichandran Ashwin and his poor form with the bat.
The Indian captain, however, sprang a surprise by preferring the erratic and hot headed pace bowler Shanthakumaran Sreesanth ahead of off-spinner Ashwin and he then promoted himself to number four, ahead of the in-form Yuvraj Singh.
The gamble paid off as he went on to hit a match-winning 91 not out to script India's six-wicket victory against Sri Lanka.
"I took a quite few decisions tonight, if we hadn't won I would have been asked quite a few questions - why no Ashwin and why Sreesanth. Why no Yuvraj and why did I bat ahead of him?" he said pre-empting the questions.
"That pushed me and motivated me to do well. The pressure had got to me in the previous games. In this game, I wanted to bat up the order and (coach) Gary (Kirsten) backed me and also the senior players. I had a point to prove to myself."
Dhoni was more amicable in the post-match press conference where he explained why he promoted himself.
"It was a difficult decision. Yuvraj has been in brilliant form throughout the series. I knew there would be questions if I promote myself," said the Indian captain, munching biscuits in between his answers.
"I thought Gautam (Gambhir) was batting well. If I go and rotate. I have played a lot with (Muttiah) Muralitharan and I know his 'doosra' quite well. I was able to put a bit of pressure as well."
On Sreesanth's selection, he said "Whatever we know of the Wankhede wicket, there is some help for the seamers. If it does not turn a great deal, it's difficult to manoeuvre the bowling attack with just two seamers.
"With Sree coming in, I thought we could put pressure on the opposition because their middle order has not been tested."
Follow Emirates 24|7 on Google News.